Personal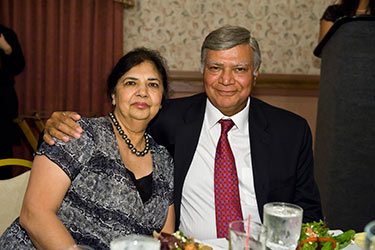 Raj Soin was born in New Delhi, India in 1947. He graduated from Delhi University in 1969 with a Bachelor's degree in Mechanical Engineering. After graduation, he came to the United States with barely enough money to make his way to Bradley University, where he earned a Master of Science degree in Industrial Engineering in 1971, while working as a research assistant. Over the years, Dr. Soin has continued his post-graduate studies in business and finance at Bradley University, Illinois State University and the advanced management programs at Harvard University and The Wharton School of the University of Pennsylvania. In 1978, Dr. Soin and his wife, Indu, proudly became American citizens.
Raj and his wife, Indu, live in Beavercreek, Ohio with their children, Amol and Vishal, their spouses Melissa and Yasmeen, and granddaughter, Mira. Raj enjoys playing golf, flying private airplanes and family vacations.
Business Career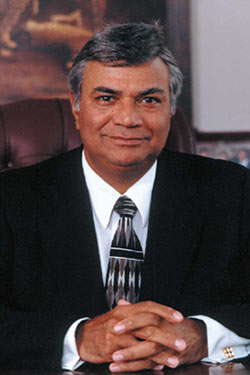 Dr. Soin started his business career in 1971 with Firestone Tire and Rubber Company as an Industrial Engineer and worked at various production facilities until 1978. In that year, Dr. Soin joined Williams International as Manager of Corporate Systems. While at Williams, his responsibilities were expanded to include the departments of industrial engineering, operations planning, scheduling and management systems.
In 1984, Dr. Soin founded Modern Technologies Corporation (MTC) with his wife, Indu. They began the company with just the two of them, $1,700 in cash, a handful of credit cards, and a dream. MTC was founded with the idea of providing engineering and technical services to the Department of Defense, but quickly became an incubator that has spawned numerous businesses in a variety of industries.
From its inception, MTC grew at an exceptional rate and was hailed as one of the fastest growing companies in the United States by Inc. magazine for four consecutive years. In June 2002, MTC Technologies had an initial public offering and is listed on the NASDAQ. The company grew to over $400 million in sales with 22 years of consistent growth employing nearly 2,900 people worldwide in 40 locations, before Mr. Soin sold the firm to BAE systems, a privately held company.
Dr. Soin's philosophy has always been that the best investment is to invest in good people. Over the years, Mr. Soin has invested in numerous entrepreneurs from the Miami Valley to Silicon Valley and around the globe. He has provided them with the necessary guidance and resources to establish and grow business ideas. In just 20 years, many of these investments have developed into a variety of strong businesses involving many diverse technologies and serving many different markets.
"Diversity" has to be the one overriding thought that comes to mind when one surveys the multi-national complex of companies that comprise the Soin family of businesses. That diversity is evident when one looks at the service offerings of the flagship Modern Technologies Corp., as well as when one looks at the other companies under the Soin International umbrella. 
Subsidaries
Affiliates
Interventional Imaging, Inc.
In addition to the above companies, Raj has financed a minority interest in many other businesses. His guidance and entrepreneurial spirit have been instrumental in helping them to become highly successful.
Charitable Endeavors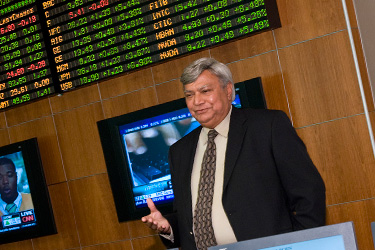 No mention of Dr. Soin's history would be complete without reference to his charitable endeavors. Dr. Soin feels a real responsibility to give something back to his community and, he has done that, with his time, and with his financial support. A good example is Soin's role as the first president and founding trustee of the Ohio-India Project. Two of the local projects of the Ohio-India Project are (1) Ghandi House, a transitional house for women in need and, (2) the Annual Day of Caring, which started as a local event and is now conducted in several states with expectations of becoming a national program.
In August 2000, the business college at Wright State University was renamed the Raj Soin College of Business in honor of Dr. Soin's accomplishments and support of the University. In 2005, Dr. Soin was again recognized with an honorary Doctor of Humane Letters degree for his vision and entrepreneurial spirit, integral role in the development of Wright State University, support for higher education and philanthropy.
In 2012, the Indu and Raj Soin Medical Center, part of the Kettering Health network opened its doors, thanks in large part to the generosity of Dr. and Mrs. Soin.
Another major contribution to his community was in the form of a donation of 180 acres of prime property in Beavercreek to build a public golf course. Dr. Soin is also the main contributor for "Sukh Dev Raj Soin Hospital" which is being built in India in memory of his father. MTC Technologies supports many community projects through the MTC Foundation. MTC not only provides part of the funding for the Foundation, but permits and encourages employees to spend company time to help with the Foundation's work.
Dr. Soin is very active in the community, and has served on numerous boards including the Board of Directors of the Victoria Theatre Association, and the Kettering Medical Center Network. He is also a member of the board of Ohio Venture Capital Authority and President of the Asian Indian Alliance. He has also served as a member of the Board of Trustees of Wright State University; member of the Advisory Board of KeyBank, Dayton District; Founding Trustee and President of Asian Indian American Business Group; member of the Dayton Foundation Board of Trustees; first President and Founding Trustee of Ohio India Project; member of the Dayton Area Chamber of Commerce Board of Trustees; member of the Ohio Business Roundtable; Co-Chair of the Center for Information Technology, Dayton area; member of the Board of Dayton Council on World Affairs; as well as a member of the Board of the Dayton Air & Trade Show.
Honors & Awards
Some of the honors and awards Dr. Soin and his companies have received are:
Listed as Inc. 500 fastest growing company for four consecutive years
1993 National Conference of Christians & Jews Humanitarian Award
1995 Enterprise Spirit Award
Ernst & Young's 1999 Master Entrepreneur
1999 Beavercreek Chamber of Commerce Business Person of the Year
2003 Recipient of the Ellis Island Medal of Honor Award