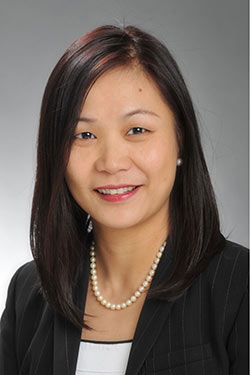 On Tuesday, September 18, 2012 Dean Joanne Li shared her vision and key priorities for the Raj Soin College of Business with over 130 leaders and supporters from the region. Under Dean Li's leadership, the Raj Soin College of Business will focus on five key themes: Innovative curriculum, academic excellence that is student-centric, committed partnerships, entrepreneurship and visibility. 
I started my position on July 9,  and it has been such a warm welcome both inside and outside of College of Business. I thank you for this opportunity to let me share with you my vision for the Raj Soin College of Business. 
The College has grown tremendously for the past decade. Both our Business Administration program and Accounting program are accredited by the Association to Advance Collegiate Schools of Business.  Also known as AACSB accredited. In fact, it might be useful to remind ourselves that less than 5% of 13,000 business programs in the world have earned this accreditation. And our undergraduate Information System program is accredited by the prestigious ABET.  ABET is formerly known as Accreditation Board for Engineering and Technology. 
Today I want to start off by sharing with you my vision for the college. There are five points I would like to invite you to discuss with me:
Innovative Curriculum
Vision #1: Innovative curriculum
If you got a chance to read this past weekend edition of the Wall Street Journal, you might notice an article on Home Depot's plan to close its remaining stores in China. What happened to one of the most admired companies in the United States? Why would it fail? Is it even possible? Perhaps the lesson to reflect on is that if we do not understand the ever-changing market that we operate in and then keep using the same old same old model that we have, failure might be inevitable. The point I try to make is that we must be vigilant in thinking strategies to meet the demand of the market. I envision our college of business will be one that is known for its innovative curriculum that meets the need of the market. A curriculum that is innovative, interactive, and quick to respond to the ever-changing professions in what is required in business management. Be it Accounting, Finance, Information System, Marketing, Supply-chain management, Management, and Economics, we will be known as a college for responding quickly to the need of the market, we will be known as a college for leading the forefront of business management professions. I invite you to engage in conversations with me and my faculty to share your ideas and strategies so we will be poised to respond in an efficient and effective manner in the profession.  Please let us know the latest need and changes in your profession and help us stay in the forefront of management professions.
Academic Excellence
Vision #2: Academic excellence to build niche markets
Another important lesson to learn from Home Depot case is to understand our market. I am not naïve to believe that we will be good in everything. That might be a promise that I can't keep.  However, I envision Raj Soin College of Business will be able to identify niche markets to pursue. When NCR left Dayton, it marked the departure of the last Fortune 500 company. 
There was an article in the New York Times in June reporting on the shortage of college graduates in this area.  In the same article, it points out that:
According to Brooking Institution Analysis, just 24% of our adult residents in Metropolitan Dayton have 4-year degrees, compared to 32% in American metro areas and it is about 48% in Washington DC. The article also points out that Dayton lost 1% of its college graduates 25-34 years old between 2000 and 2009 when that group grew by 13% nationally. By the way, that group grew by 25% in Columbus. What happened here? This report baffles me quite a bit. When I first came to Dayton, many people told me that the public high schools here are really good. Now my 10-year old is also at a public school. And I found out more and more about this area when I get to know people around. They are right. I look around the public high schools here, like Oakwood, Centerville, Beavercreek, Springboro - they are all very good public schools. So I have been thinking it does not make sense. When we have a group of students that we all know coming out from nationally ranked schools, why on earth do we observe such shrinkage in college graduates? So I came up with two possible reasons. Reason #1. The qualified high school students went somewhere else instead of staying in Dayton area for 4-year degrees. They go to Ohio State, they go to Miami University, they go to Ohio University. They don't stay in Dayton. So what is missing here? Is that true we don't have a great university here? Look at this room, look around your colleagues, look around your business leaders? It just doesn't make sense. We have good universities here. Look at Wright State University - a young and vibrant university that has everything to offer. Then what could be the reason? Reason #2. We don't have jobs here. Candidates are told that go somewhere you can find a job. So either candidates look for universities located where the jobs are or they graduated from a 4-year university and go something to work. Then we ask ourselves this question, what can we do to address this issue?  We understand knowledge breeds knowledge. Right? It is a known fact that the more educated the population, the lower the unemployment rate. I refuse to accept the fact that we don't have anything here to offer in Dayton. I invite you to think deeper and ask what we can offer here to produce, retain, and attract talents. Fed Chairman Ben Bernake recently said the 8.1% unemployment rate since the beginning of the year has not improved and that high unemployment rate imposes hardship on our citizens and that also entails a tremendous waste of human skills and talents. Can we challenge ourselves to think deeper on what we can offer as a college and as a business community? I envision the Raj Soin College of Business will keep focusing on specific niche that addresses the strengths of this region and rebuild a strong workforce that can revive the economy here. 
Committed Partnerships
Vision #3: Committed and engaged partner
I invite you to be our partner. I believe higher education institutions, just like any corporate citizens, have responsibility to revive the economy. 
People are nice here. Not just nice. But super-nice. I attended one of my departments' retreats. A colleague asked me, "What is the one good surprising thing you found after you came here?  I thought it was quite a delightful question. Most of the people tend to offer me what I can do better. But his question reflects a new light of optimism. This is my answer: I find it surprising that people here are truly nice. They truly want to help you. They truly want to see you succeed. Many of you have called or emailed to welcome me and given me an unconditional open offer that should I need any help, I can always count on you. I know we can count on you as a committed partner.
Here's what I need your help.  There will be no better way to train our students than having them on the ground. I envision our business students take on more and more internships to shadow a real professional and gain hands-on experience. I invite you to come and talk with us. Talk with our faculty, talk with our student, talk with our college. I invite you to partner up with us and let us be on the ground with you. We want to know what common problems you encounter at your work place in your profession. Those problems are the best learning tools that we can share with our students.  Let our students and faculty get to know you and your company and organization. I envision students coming out from Raj Soin College of Business will be able to connect theoretical learning and practical training, and subsequently apply critical thinking skills. Recently, our college purchased another 11 licenses of Bloomberg trading terminal and brought the total to 12. They AREN'T cheap.  We want you to know that we are committed. Our curriculum will be fully engaged in using these terminals to train the employees you are going to hire in the future. We invite you to come and visit us and see for yourself. I dream that we will be a partner you can count on and let us shorten the time of training on your side. Our graduates will be with skills and training that are highly applicable in your profession and market. I envision we will share a strong partnership going forward. Together we will bring the economy back here at Dayton, and far beyond. We will be committed with each other. We will work on the same goal – to produce, retain, and attract talents.
Entrepreneurship
Vision #4: Entrepreneurial spirit
Wright State University this year will be celebrating its 45th year anniversary. Raj Soin College of Business is still a very young college. I envision the college will be fast to respond to any opportunity coming our way. This past Sunday, along with Dr. Munch (our Marketing Chair) I welcome the 11th cohort in our Speedway Emerging Leaders Program. The 11th class. Some of you probably know about this program. But for those that are not familiar with it, this is a program that our College partners with Speedway to train their mid-level managers in an intensive course format through multiple disciplines with customized Speedway-centric curriculum. All participants in this program have gone through a very selective process and are identified by their VPs in their divisions as the future leaders of the company. Companies such as Speedway understand why it is important to prepare their up and coming managers into the leadership roles in the organization. I got an opportunity to have dinner with them this past Sunday. They were all excited about starting the program. In this program, we are able to see how learning and training are connected. Raj Soin College of Business these days is no longer the traditional business school you think. It takes on an entrepreneurial role and is revolutionary in meeting businesses' needs. I imagine we will keep designing programs as our Speedway Emerging Leaders program and I imagine we will constantly think outside of the box and act accordingly.    
In addition, we will create international partnerships to bring students here, maybe Shanghai, maybe Istanbul, maybe New Dahli. We are going to identify venues to attract talents and retain them. We will be actively looking for opportunities that might not fall in the traditional business school models and we will engage in technological advances. Executive training in domestic and international markets are within our goals.
Visibility
Vision #5: Visibility
I heard quite a few people described Raj Soin College of Business as the best kept secret or the hidden gem. I believe they are meant to be great compliments. But enough talk about this gem in the rough. How about we shine it and polish it together. 
I understand the value of a business school degree. I also understand why visibility is important for a business school and our graduates. There will be at least 3 strategies to address that. 
STRATEGY #1: I expect we will develop a business student's profile. From what to wear to work, how to talk to clients all the way to time management skill and strong work ethics and great attitude to succeed, we are going to teach them all. I invite you to give us some ideas of what you want to see in a business candidate. They will be your employees and our students who will make the college shine. Some of you have told me how delighted you are to find out how smart and diligent our students when they were your interns and now your employees. Our graduates will be our first line of visibility. 
STRATEGY #2: I envision we, as faculty and staff, will create a unified message to tell the story. We want people to know what we are doing and what programs we are developing. We want people to care about what we care about – our students, their success, our curriculum, our programs, and your organizations. I always tell my students this: whichever business profession you are going to end up, you must have a good sense of marketing. So we are going to do as we preach. 
STRATEGY #3: I invite you to help us. Come and visit us and find out more about what we are working on. Talk to your friends and families about us. Help us create this web of network. Help us stand in the forefront of businesses and communities. Help our students and college to translate visibility into a valuable degree and higher marketability.
---
Tonight, allow me to repeat my vision for Raj Soin College of Business. I envision the College of Business is known for its courage to take bold steps to address market's need. I envision we will have an innovative curriculum that addresses not only the demand of employers and business communities but also answers the challenge of the profession. I want our college to be known as "the"  Competitor in this region not just the other competitor. We will strive for academic excellence to fill niche markets. I envision we will be your committed and engaged partner. You will invite us to your office and let us hear of your needs. We will be committed to make curriculum that is both responsive and experiential. You will think of us as a non-traditional business school. You will rely on us to think like an entrepreneur. Raj Soin College of Business will be known for as an entrepreneur that often creates ideas outside the box. In five years, with your help we will be highly visible not only in this region but far beyond. 
To reinvest in this economy and to bring prosperity back, we must succeed in transforming the work force base in this area. We must produce candidates that are well trained. Our curriculum must be focused on experiential learning and problem-based orientation. The bottom line – well-trained college graduates with specific knowledge pertaining to their field and yet independent critical thinkers. 
The economic hardship that the country endures for the past few years has placed hardship on families and students. With a very reasonable tuition here at Wright State University and Raj Soin College of Business, many students still cannot afford to come. Imagine when both parents lost their jobs, the dream of college will become very remote for these students and the aspiration was no longer there simply because they need to survive economically. It is no secret that government funding to public universities has reduced significantly in recent years. Public Universities, like us, can no longer operate solely relying on government funding. It means we must actively think and behave like a private organization in both cost effectiveness and revenue generation to support students and higher education. As a business school, we will make that commitment, just like any organization in the market, to bring those deserving students to come here. Today I met a new professor from Anthropology Department. She just joined us from Ohio State University. I asked her, "hey what do you think about the students here?". She said, "I really like the students here. They are different from those in some very selective universities." I said, "What do you mean?". She told me the students here care about their degree no doubt. But they truly care about the experience here at Wright State University. So we must not forget our calling, as a business school and as a professional school, to transform the workforce and provide the experience and opportunities.
The time has finally arrived to test our true character. Are we going to sit back and complain and hoping tomorrow will be better? Or are we going to take this responsibility and find our way out?  I am inviting you to help us. No matter how big or how small your organization is, think strategically with us. If you are a big organization, donate to a good cause to create an environment to gravitate talents to this area, maybe a scholarship, maybe a research endowment. If you are a small organization and have a capital constraint that can't afford you a full-blown management training program, think of us as your extended arm. Create partnership with us and let us help you train your employees. As a finance professor, I invite you to invest in the future, not just today. I believe it is our responsibility as a higher education institution, as a business school to help revive the economy here. 
An economic environment must be created to produce, retain talents and attract know-hows. I want you to know that as a College of Business, we are young in many ways but old school for the followings:
Integrity, Accountability, Professionalism, and Passion

I ask for your support to make this vision a reality. I ask of your help to bring this economy back to Dayton area and beyond. I invite you to make us part of your organization. I invite you to help that one student we all believe is well deserved to have an excellent education. Let's work together and show him the way. Now is the time to make that commitment to Raj Soin College of Business and to us as business community at large. THANK YOU.