We are pleased that you are interested in attending the Raj Soin College of Business. Our faculty takes great pride in supporting your advancement during your academic experience and throughout your career. As you evaluate various business programs, keep in mind the following reasons to choose the Raj Soin College of Business.
Accreditation & Value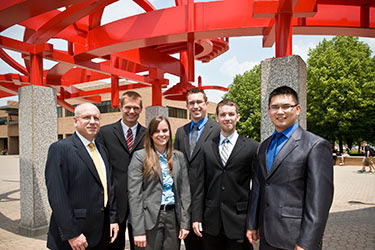 AACSB accredited: The top business accrediting body in the world
Since 1974, Wright State's business program has been continuously accredited by the world's highest accrediting body for business programs, AACSB International – The Association to Advance Collegiate Schools of Business. Less than five percent of the business programs in the world and only one in three programs in the U.S. have achieved this rigorous standard. That means you are choosing one of the best business schools in the country. 
In addition, our Accountancy program is separately accredited by AACSB, a standard achieved by just 178 accounting programs. And our undergraduate MIS program is the only undergraduate MIS business program in Ohio to be accredited by the Computing Accreditation Commission of ABET.
Unrivaled value: When you invest your time and money in your degree, you want to be sure you get the best possible quality and value. With continuous accreditation by AACSB International since 1974 and one of the most affordable tuition rates in Ohio, the Raj Soin College of Business maximizes the return on your investment in your college education.
Reputation for Excellence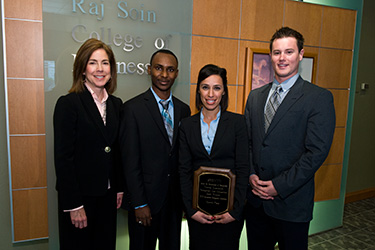 A national reputation for excellence: Our reputation for excellence is also evident in the national and state-wide recognition our undergraduate and graduate students achieve. Our students have consistently brought home national awards from the Institute for Management Accountants, The Society for the Advancement of Management, The Society for Human Resource Management, the National Ethics Bowl, the National Financial Management Invitational and the Model United Nations global competition.
In addition, to our international accreditations, the Raj Soin College of Business has been recognised by the U.S. News and World Report as a top 258 business school in the U.S. in 2011. The Princeton Review has selected our MBA program for inclusion in the Best 296 Business Schools in the nation for four years running from 2010 through 2013 and our part-time MBA program is ranked by Bloomberg Businessweek among the top MBA programs in the nation and one of only four ranked programs in Ohio.
Career Advancement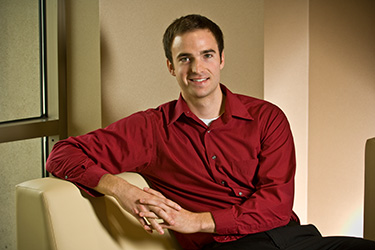 We help you compete with the best in the job market. For students who need to build their professional experience, the College along with Career Services offers ample opportunities for internships, cooperative education and courses where students work on real projects for real businesses. For working professionals, our graduate programs offer convenient class times, locations and on line options to advance your career. Once you graduate, you can use the myriad of career services for a life time at no cost. 
Supportive Learning Environment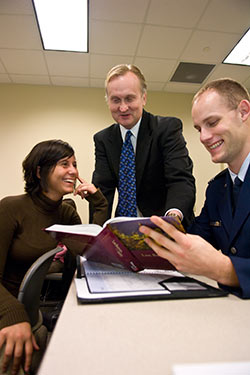 We foster a learning environment where students, faculty and business leaders learn from each other. Our faculty and academic advising staff are dedicated to helping you achieve your goals. Through our collaboration with the business community and over 17,000 business alumni, we enrich your course work with real-world experience. In addition, all of our classes are taught by full-time faculty or adjunct faculty who are meet AACSB's rigorous standards to be academically and professionally qualified. Our classes are not taught by graduate students.
Faculty focused on excellence: Our faculty members are recognized researchers in their fields with Ph.D.s from the world's leading universities. And our faculty are teachers in the best sense of the word. They share their real-life experience and commitment to a business professional's responsibility to society. Our faculty also give you their personal attention and help you develop an added edge for success in your internships and careers. 
Faculty with extensive business experience: Our professors know what it's like to be in the business world…because they have been there. They incorporate actual challenges and opportunities facing businesses you're your courses. Our faculty have experience in areas such as aerospace, banking, energy, finance and accounting, healthcare, human resources, international business, information technology, logistics and supply chain management, marketing, leadership and innovation.
---
You are welcome to visit us at any time. Our faculty and academic advisors always have an open door to assist you in any way possible.
Please contact us for an individual appointment at:
rscob-admin@wright.edu
(937) 775-2437
Fax: (937) 775-3545
Monday-Friday 8:30 a.m.-5 p.m.
Wright State University
Raj Soin College of Business
3640 Colonel Glenn Hwy
100 Rike Hall
Dayton, Ohio 45435-0001
Directions to Wright State
We look forward to hearing from you soon and seeing you in class this coming term.