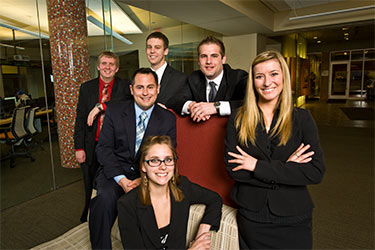 The Raj Soin College of Business has a long tradition of developing influential business leaders in the region and beyond. In 2000, the College was named the Raj Soin College of Business in honor of Rajesh K. Soin, an internationally recognized entrepreneur, business leader and community benefactor. 
Through collaboration with the business community and alumni, the college continues to launch new academic programs, increase scholarship support and expand career opportunities for our students. This collaboration enriches our students' academic experience while helping area businesses excel.
With an enrollment of approximately 1,200 undergraduate students and 500 graduate students, we offer the benefits of a comprehensive business program and a diverse student body. At the same time our small class sizes and supportive faculty offer students the individual attention they need to excel.
Accreditation

Our program is the first in the region to be accredited by AACSB International, the highest accrediting body for four-year and post-graduate business degrees. Since 1974, we have met these high standards for faculty expertise, academic quality, research and community service. Less than five percent of business programs and only 177 accredited institutions have separately accredited accounting programs. 
The College consistently excels in numerous national student competitions in management, accounting, human resources, marketing and financial service. In addition, the college has been recognized by both international accrediting bodies and ranking organizations.

In 2006, our Bachelor of Science program in Management Information Systems became the first business school program in Ohio to be accredited by the Computing Accreditation Commission of ABET. We were also among the first twenty business programs in the U.S. to achieve this accreditation.
National Rankings

Top Tier Business Programs U.S News and World Report
Wright State University's Raj Soin College of Business is recognized in the top tier of the U.S. News & World Report Best Business Programs. Only two-hundred and fifty-nine business programs have been recognized by U.S. News and World Report in the top tier for 2011.
---
MBA Program Nationally Ranked by Bloomberg BusinessWeek
Wright State University's part-time MBA program has been recognized in the Bloomberg BusinessWeek's Top Part-Time MBA Programs for 2011. The national ranking survey considers separate measures of student satisfaction, academic quality and post-graduation outcomes. Wright State's program was ranked 11th among schools in the 12-state Midwest region and 61st overall. Read more.
---

Top 296 MBA Programs Princeton Review 2010, 2011, 2012 and 2013
In 2010, 2011, 2012 and 2013, the College was selected by Princeton Review as one of the "Best 296 Business Schools" in the U.S. with an undergraduate enrollment of 1,200 students and a graduate enrollment in ten majors of 500 students in five masters programs, the Raj Soin College of Business provides a leading edge learning environment, and faculty focused on each students' success.