Overview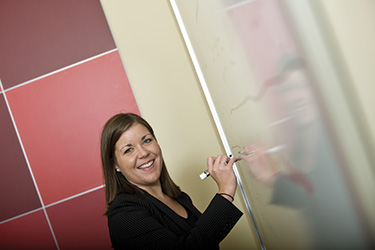 The Master of Accountancy Program in the Raj Soin College of Business at Wright State University is fully accredited by AACSB, the international accrediting body for business and accounting programs. The Master of Accountancy Degree satisfies the education requirement for taking the Uniform CPA Examination. Required classes are offered in the evening to accommodate both full and part-time students. Graduate assistantships and graduate tuition scholarships are available to full-time students on a competitive basis. Departmental scholarships are available to both full and part-time students based on academic record and financial need.
Benefits
The M.Acc. degree satisfies not only the Ohio law, but also the requirements of membership in the American Institute of Certified Public Accountants (AICPA). The M.Acc. Curriculum includes 25 required credit hours in advanced accounting topics and 20 credit hours in electives. Students can tailor the electives to suit their needs, interests, and career goals. Wright State's M.Acc. program also offers the following benefits:
Program accredited by the AACSB -- International Association for Management Education
Can be completed in one year (four quarters) by full-time students who possess an undergraduate degree in accounting from a AACSB-accredited program
Required classes offered in evening
Opportunity to take part in real-world accounting projects
Excellent internship opportunities
Development of critical thinking skills
Individualized attention from faculty
Emphasis on professional development skills
Meets education requirements for CPA exam eligibility
Preparation for specific aspects of the CPA exam
Completion of program for full-time students in 12 months or less
Outstanding job placement opportunities
Top Employers
Top employers that have hired our students:
Deloitte
Ernst & Young
PricewaterhouseCoopers
Battelle & Battelle
Brady, Ware & Schoenfeld
Clark, Schaefer, Hackett
Flagel, Huber, Flagel
Kentner Sellers
MeadWestvaco
Wright Patterson Air Force Base
Thorn, Lewis, Duncan
Admission
Admission Criteria
Applicants to the Master of Accountancy Program are admitted based on the following criteria:
Ethical character and personal integrity consistent with the standards of the accounting profession
Intellectual capability to perform complex problem analysis
Strong written and oral communication skills in the English language
Mastery of basic accounting technical skills
Application Process
Apply online to the Graduate School
Pay the appropriate degree status application fee
Submit official graduate and undergraduate transcripts from all college/universities attended (other than Wright State University) showing a four-year baccalaureate degree from a regionally accredited institution
Take the GMAT and notify Educational Testing Service (ETS) to send an official score to Wright State. A student currently enrolled as an undergraduate must take the GMAT one semester prior to graduation in order to be considered for admission to the M.Acc. Program immediately after completing an undergraduate degree
Submit a letter of recommendation attesting to the applicant's ethical character and personal integrity.
In addition to the above documents, international applicants must also submit:
Official Test of English as a Foreign Language (TOEFL) score report sent directly from ETS;
Financial Statement Information form sent to:

University Center for International Education
190E Student Union Wright State University
3640 Colonel Glenn Hwy.
Dayton, OH 45435-0001, USA
Curriculum
Wright State University's M.Acc. degree consists of a minimum of 30 semester hours. The M.Acc. program requires that applicants already possess a four-year undergraduate degree. M.Acc. students are expected to have completed, at either the undergraduate or graduate level, courses in accounting and other business disciplines.
Prerequisites
Business Prerequisites:
(waived for students with undergraduate degrees in business or a master's in business administration from AACSB-accredited schools)
Economics
Finance
Management Science
Management
Marketing
Communications
Business Writing
Accounting Prerequisites:
(waived for students with undergraduate degrees in accounting from AACSB-accredited schools.)
Accounting Principles
Intermediate Financial Accounting
Managerial Accounting
Taxation
Accounting Systems
Auditing and Assurance
Required Courses
15 hours (3 credit hours each)
ACC 7410  Financial Accounting Topics & Research
ACC 7440  Attestation: Advanced Topics & Research
ACC 7480  Ethics & Corporate Governance
LAW 7350  Law for Accountants
ACC 7500  Capstone Project
Electives
Accounting Electives
9 hours (Select any three, 3 credit hours each)
ACC 7430  Taxation: Advanced Topics & Research
ACC 7800  Special Topics in Accounting
ACC 7390  Advanced Accounting
ACC 7460  Financial Statement Analysis
ACC 7470  Current Topics in Accounting & Business
ACC 7160  CPA Exam Concepts
Other Elective Courses
6 hours
May include 3 credit hours of internship
May include accounting elective in excess of 9 hours
May include graduate business coursework (6000 level or higher)
Quarters
Required Courses: 
21 hours ( 4 credit hours each, except ACC 747)
ACC 741  Financial Accounting Topics and Research
ACC 744  Attestation: Advanced Topics and Research
ACC 747  Professional Issues Seminar (1 credit hour)
LAW 735  Law for Accountants
ACC 748  Ethics and Corporate Governance for Professional Accountants
ACC 750  Capstone Project
Accounting Electives
8 hours (Select any two 4 credit hours each)
ACC 642  Government and Not-for-Profit Accounting
ACC 743  Taxation: Advanced Topics & Research
ACC 745  Accounting and Information Technology
ACC 757  International Accounting
ACC 780  Special Topics in Accounting
Other Elective Courses: 16 hrs.
May include 4 credit hours of internship
May include accounting elective in excess of 8 hours
May include graduate business coursework (600 level or 700 level)
Contact

For more information, contact: 
Kevin Brown, Ph.D., Associate Professor of Accountancy
Director, Masters of Accountancy
(937) 775-3138
kevin.brown@wright.edu