About the Program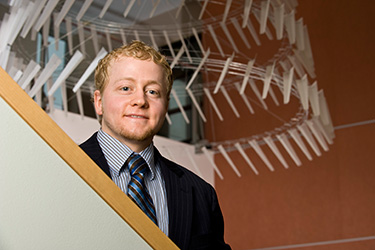 The Department of Economics at Wright State University offers an innovative Master of Science program in Social and Applied Economics. We accept qualified applicants with undergraduate degrees in any field, and provide them with a specialized graduate education in economics which promotes effective decision-making. A complete list of required and elective courses is available on the Social and Applied Economics Curriculum webpage.
For more information please contact our Program Director Thomas Jenkins via email or 937-775-2419
Features:
Convenience: All classes are conducted in the evening, making them ideal for working adults.
Availability: Qualified applicants may enter the program in the Fall, Winter, or Spring quarters.
Efficiency: Most students complete the program in one year.
Uniqueness: Our Master's degree is unique in this region of the country by virtue of its innovative blend of applied and social economics. In addition to a solid foundation in micro- and macroeconomics, students take courses in economic measurement and forecasting to develop quantitative skills, as well as courses on contemporary policy issues—such as the interface between economics and ecology—designed to enhance critical thinking.
Hands-on Experience: The program culminates in an internship in which M.S. candidates apply economic analysis to real-world problems for a business, non-profit organization, or government agency. Students build a documented portfolio of accomplishments while providing assistance to regional employers.
Professionalism: Courses are taught exclusively by full-time professional economists holding doctorates in the discipline. In addition to publishing state-of-the-art research, our faculty have served as consultants and advisors to many prominent government agencies, nonprofits, and corporations, including the Joint Economic Committee of the U.S. Congress, the U.S. Department of Housing and Urban Development (HUD), the U.S. Nuclear Regulatory Commission, the National Institute of Technology and Standards of the U.S. Department of Commerce, the Research Triangle Institute, the Rand Corporation, the Educational Testing Service, and the government of Vietnam.
Marketability: The MS provides a valuable entrée into employment in either the public or private sector. Many of our graduates are employed in financial services, government agencies, and educational institutions.
Flexibility: The MS in Social and Applied Economics is also advantageous to those who wish to pursue further graduate studies in law, economics, political science, or other doctoral programs in the social sciences.
Career Opportunities
You'll need a strong interest in relevant, real world topics - but not necessarily an undergraduate degree in economics - to succeed in Wright State's Master of Science in Social and Applied Economics program.
Wright State's Master of Social and Applied Economics program prepares professionals to apply economic principles to real socioeconomic problems. Combining applied economics with social economics puts numbers in the context of what they mean to a global society. The program bridges the gap between research and the application of research in a wide variety of business and government professions. Students are encouraged to develop and evaluate new approaches to economic problem solving and to put those creative solutions to work during their internship experience.
Wright State's Master of Social and Applied Economics prepares students for careers in industry or government. Recent graduates of the program have obtained the following positions:
Market Analyst - Chicago Mercantile Exchange
Production and Cost Analyst - Serta Corporation
Energy Forecast Analyst - Dayton Power and Light
Forecast Analyst - Arizona Power
Product Content Manager - Lexis-Nexis
Credit Analyst - Bank One
Credit Analyst - Avanta Corporation
Researcher - Human Services Department, Hamilton County Ohio
County Auditor - Clark County Ohio
Production Analyst - Whirlpool Corporation
Economic Analyst - Ohio Bureau of Employment Compensation
Additionally, graduates who wish to pursue further graduate studies have successfully been placed in Ph.D. programs at Universities such as:
Colorado State University
Kent State University
Ohio State University
Stanford University
University of Illinois
University of Wisconsin