About the Program
Apply now for Spring 2014 Cohort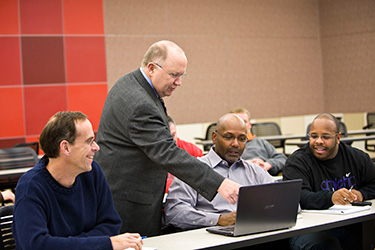 (Starting 10 January 2014)
Join our Linkedin Group NOW for additional information: Raj Soin Master of Information Systems and Master of Logistics and Supply Chain Management
Supply Chain Management and Information Systems are currently high demand and high pay positions. WSU offers one year Masters Degrees in Information Systems and in Logistics and Supply Chain Management to help advance your career. Programs are fully AACSB International accredited and consist of 4 weekend residencies, and online study.
The Master of Science in Logistics and Supply Chain Management program is designed to provide students with the graduate education that will enhance their leadership careers in the field of logistics and supply chain management.
The program aims to enable students to craft technology-rich supply chain architectures, instill rapid innovation into supply chain design, efficiently manage the supply base, align partners through trust and common values, and create the right metrics for supply chain networks.
The MS program is a one-year, 33-credit hour, lockstep, cohort-based program. The program blends three intensive physical in-class residencies with five online e-learning segments. The in-class residencies are scheduled between the e-learning segments and include case studies, leadership lectures, breakout sessions, and simulation assignments. E-learning segments add learning activities such as interactive cases, pedagogical discussions, and proprietary teaching material built by global subject matter experts.
The program consists of nine courses (3 credit hours each) and one capstone project (6 credit hours).
When applying online, please send your email to Dr. Valerie Stueland, Director at rscob-isom@wright.edu so we may follow up on your application.
Why a Degree in MLSCM?
Now more than ever, success in most businesses depends on the successful management of Supply Chain Operations. Consider what happens when supply chains fail to deliver and stockouts occur in retail stores. Research shows that retailers can lose nearly half of intended purchases when customers encounter stockouts.
Organizations such as Wal-Mart, Sony, Dell, SUN Microsystems, and DaimlerChrysler depend on their supply chain systems to deliver the right products at the right time. These companies succeed with:
Crafting customized supply chain architectures: Designing supply chains for delivery cost savings, speed, and managing business transitions
Leveraging innovation: Leaders in supply chain management apply new technology and new process thinking to great advantage
Managing the supply base: Flexible sourcing, supplier integration, and part management
Aligning supply chain partners: Building efficiencies through trust, common values, and goals
Implementing optimal measurement and controls: Creating the right metrics for operations based on appropriate incentives and penalties
A comprehensive program of study is required for students to succeed in these areas. Professionals in logistics and supply chain management will find this program to be focused, balanced, and practical. Our orientation of balancing theory development with field expertise will allow participants to develop a unique skill set that is unmatched.
MLSCM Capstones
Student Name
Year
Sponsor
Title
Amy Luke
2005
International Trucking
Sourcing Strategy
Jim Mehrl
2005
LUK Automotive Systems
Luk Automotive Systems North American Regional Packaging Center
Robert Blakey
2005
USAF
Consumable Readiness Spares Package Policies for the United States Airforce
Michael Embree
Richard Amos
Bill Bradley
2005
CDO
RFID in Manufacturing
Troy Kaper
Chad Bruggeman
C. Richard Horner
2005
USAF
Improving The Air Force Requirements Determination Process An Analysis 
Sarah Miller
2005
Nash Finch
Nash Finch Company Retail Weekly Ad CPFR Project
Bob Dernbach
Peter Hager
2006
City of Dayton
Logistics & Supply Chain Management Recommendations for City of Dayton Fleet Management
Evan Metyk
2005
Supervalu
Operational Advancement through forecasting and Optimization
Mary Johnson
2005
US Military
Sub-Component Depot Maintenance Interservice Agreement (DMISA)
Michael Werneke
2005
DODAAC
Reengineering  The Air Force Department of Defense Activity Address Code Process
Ann Wimberly
2005
USAF
A Study of Landing Gear Constraints
Frank Washburn
Keely Done
John P. Bowler
2006
XYZ Corp.
Transistioning from Push to Pull
Todd Carnell
2006
Hill-Rom Company
Transforming the Overbed Table Supply Chain
Michael Flaker
2006
International Trucking
Forecasting and Demand Management Project
Sandra Kalfas
2006
Air Force
Proof of Concept Methodology for Demand Planning  of Nonstandard Parts for U. S. Air Force Foreign Military Sales Customers
Mark Leffew
2006
VWG
VWG and supply chain management
Rosalyn Taylor
2006
Air Force
Determining the Proper Documentation/Tracking For Exportation of Foreign Military Sales Articles
Brian Priebe
2006
Hilti
Hilti Reverse Logistics
Loren Ross 
2006
Air Force
Supply Support to Depot Maintenance AWP Study
Michael Sander
Mike Freeman
Bill Wilson
2006
Emerson
Improved Information Connectivity and Visibility throughtout the Global Supply Base
Ronald Bingham
2007
Air Force
Commercial Optimization Technology as an Enabler for Applying Advanced Strategic Sourcing and Driving Sustainable Improvements in the Air Force Supply Chain
Herbert Anderson
2008
Dayton VA Medical Center
Reverse Logistics at The Dayton VA Medical Center
Brian Lautzenheiser
2008
Ohio Army National Guard
The Central Issue Facility of the Ohio Army National Guard
Joel Young
2008
 
The Role of Server Virtualization is Disaster Recovery Strategies
Daniel Hogue
2008
Defense Logistics Agency
The Defense Logistics Agency and Business Systems Modernization: Transformation and Distruption in the Supply Chain
John Soloman Jatta
2008
Granco Childrens Products
Demand Planning Transformation at Graco Childrens Products
Heather Baughman
2008
AEP
AEP Generation Procurement Sourcing Strategy
Mannie Alvarez 
Monica Howard
2008
Air Force
USAF Recruit uniform requirement forecast
John M Donnelly 
2008
 
Cycle Counting and Inventory Reduction in Manufacturing
William Connar
2008
Emerson
Optimizing E-sourcing at Emerson Climate Technologies
Allan Hartong
Paul Clark
2008
Electric Utility
Analysis & Implementation of Lean Supply Chain Practices in an Electric Utility Organization
Claire Bayraktaroglu
2009
Mr. Scott Stradley
Green Supply chain SOLUTIONS for csc's Electronic waste (e-waste)
Glenn Loving
2008
Kettering Health Network
Increasing Patient Safety and Staff Efficiencies through Bar-Coded Unit-Dose  Medication and Automated Pharmaceutical Ordering Through a Centralized Network Repackaging Pharmacy
Ken Tifft
2008
Kettering Health Network
Develop a Process to Forecast Surgical Supply Usage (Specifically Custom Surgical Packs) to Drive Supply Chain Savings and Increase Quality of Care Provided to Our Patients
Randy Wallace
2008
CEVA Logistics
Automating the Shipping Process for Honda Intra-company Parts
Chad Wynkoop
2008
BarSplice Products
Enhancing Decision Making in the Supply Chain
Steve Cook
2008
DJJ
Optimization of scrap metal freight Transportation
Amy Gress
2009
Ridge Tool Company
A Balanced Approach for Strategic Evaluation of Underperforming Suppliers
Joel Phelps
2010
Capstone Steel Products
Locomotive Usage Analysis for Material Movement inside a Steel Mill Rail Yard
John Bell
Rodger Chapin
Catherine Ehlers
2010
Sherwin-Williams
Rework Process Optimization
Larry Brown
2009
Walmart
Capstone Project
Jeff Dunlap
2010
Meridian Bioscience
Supply Chain operation of Tru Flu
Ebony Barnes
2010
Walmart
WalMart/Sam's Club Warehouse Project
Greg Brumbaugh
2010
Walmart
Walmart Mini Warehouse Addition
Mamadou Diop
2010
General Motors
The Automobile Market in West Africa/ An Entry Strategy for GM
Naomi Sherman
2010
USAF
Improve Transportation Discrepancy Reporting (TDR) process.
Frederick McAdoo 
El Mahfoud Aoussar
John Blasingame
2010
DuPont
Inventory Optimization for a Global Electronics Polymer Manufacturer
Thomas Murray
2010
USAF
Project Lightning – F15 RSP Inventory Consolidation
Michael Magnusson
Cheryl Deckard
Mark Heitcamp
2010
Transfreight LLC
Crossdock Cost
Steve McCray
2010
Osborne Coinage
Brass Inventory
Patrick Boyd
Andre McCaster
Kevin, Durrough
2010
Kroger
Inventory Reduction
Tim Hittle
2010
Classic Carriers
TMW to Epay Manager Data Integration
Jason Sanders
Jason Eskew
2010
USAF
SharePoint Implementation
Mustafa Mustafa 
Charles Burkett
2010
Christ Hospital
Tracking Blood Supply with RFID
David Kulik
Admission
The Master of Science in Logistics and Supply Chain Management program is designed to provide students with graduate education that will enhance their leadership careers in the fields of logistics and supply chain management.
International students - PLEASE NOTE! If you plan to study in the USA under an F-1 or J-1 visa, you are NOT eligible for this program because of US federal laws and regulations governing online classes. Please contact Ms. Claudia Espinoza at Wright State's International Education office to see if there is another program that would meet your educational goals.
Application Requirements Include:
Three years of experience in logistics, operations management, technology, or a related field
In or on track to assume a role of senior professional responsibility
Bachelor's degree (GPA requirements)
Three professional references
Neither the GMAT nor the GRE are required for this program.
To apply to the program, visit the Graduate School website to start the application process.
It is helpful that you contact Dr. Valerie Stueland, Director at rscob-isom@wright.edu, when you apply to the program so that your application status can be tracked.
Contact
For more information, contact: 
Valerie J. Stueland
CPSM, C.P.M., CPPO
Director, Masters in Logistics and Supply Chain Management
ISSCM Office: (937) 775-2895
Direct Line: (937) 231-6258
Valerie.Stueland@wright.edu