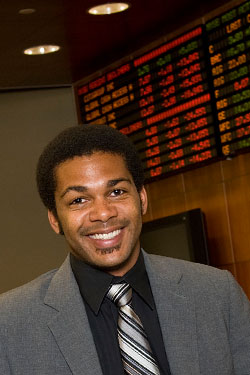 This option is designed for individuals who want to accelerate the completion of their MBA. Students who do not need to take the 5000-level foundation courses can complete the program in 12 months by taking four classes Fall and Spring semesters and three classes Summer Semester. Graduate assistantships and tuition scholarships are awarded on a merit basis to selected full-time students.
Classes begin annually in Fall Semester. By taking a total of 11–16 classes (three to four classes per semester), students graduate the following Summer Semester at the end of August.
Tuition scholarships and graduate assistantships are awarded on a merit basis to students with outstanding undergraduate records and relevant skills. 
Recipients of graduate assistantships work 20 hours per week for faculty and staff in the College in a variety of research, program management, business consulting and marketing roles. Graduate assistants do not teach courses. Monthly stipends vary depending on the annual budget allocation for the College of Business.
Visit the MBA Admission page for admission requirements, the application process, and to apply for for a Graduate Assistantship and/or a Graduate Tuition Scholarship.
Students are also accepted in the full-time program if they do not receive one of these forms of financial support. Standard in-state and non-resident tuition rates apply. Visit the MBA Tuition and Fees page for details.