Overview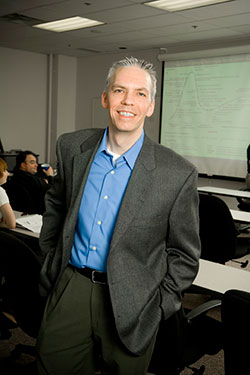 The weekend program utilizes a cohort model with a structured course schedule. Students complete the 7000-level courses in two years (not including Foundation classes). Foundation level classes should be completed for joining the cohort. You begin and end the program with the same group of professionals. Through the cohort model, you build a supportive network of professionals from diverse professions in business, science, technology and non-profit sectors.
Two courses per semester are offered. Each class meets seven times per semester every other weekend on Friday evenings from 4:00 pm - 9:30 pm, and on Saturdays from 8:00 am - 1:30 pm
Class sizes are limited, therefore early applications are encouraged.
You can select your cohort from one of three locations.The Concentration in Management, Innovation and Change is offered at all weekend locations. Students in the weekend cohort can select three electives from the other concentrations offered on main campus.  The same top quality faculty teaches the same curriculum at all locations. 
Cohorts for these locations will begin in Fall 2011.
Dayton - Main Campus, just minutes off I-675 and I-70. - Fall 2012
Celina – Lake Campus, near I-75 and Highway 33.- TBD
Mason - Sinclair's Courseview Campus Center, near I-71 on Highway 741. - Spring 2013
Enroll in spring or early summer for classes beginning in Fall Quarter. 
Visit the MBA Tuition and Fees page for details on tuition, fees, and financial aid.
Course Schedules
Fall 2013-Summer 2015
Semester
Dayton 4 Campus
Courses
Mason 5 Campus
Courses
Lake 2 Campus
Courses
Dayton 3 Campus
Courses
Fall 2013
MBA 7500

*MBA 5100
*MBA 5300

MBA 7600
*MBA 5100
*MBA 5300
MBA 7600
MBA 7500
*MBA 5800
 
MBA 7220
#MGT 7060

 
Spring 2014
MBA 7100
MBA 7300
*MBA 5200
MBA 7300
MBA 7100
*MBA 5400
MBA 7520
MBA 7800
*MBA 5100
MBA 7550
#MGT 7660
 
Summer 2014 A
Summer 2014 B
MBA 7600
*MBA 5800
MBA 7800
MBA 7520
*MBA 5800
MGT 7500
MBA 7100
*MBA 5300
#Conc Elective
#MGT Elect

 
Fall 2014
MBA 7220
#Conc Elective
*MBA 5400
#Conc Elective
MBA 7800
*MBA 5200
#Conc Elective
MBA 7300
*MBA 5200
 
Spring 2015
MBA 7550
#Conc Elective
 
#Conc Elective
MBA 7220
 
MBA 7220
#Conc Elective
*MBA 5400
 
Summer 2015 A
Summer 2015 B
MBA 7520
#Conc Elective
#Conc Elective
MBA 7550
MBA 7550
 
 
* Foundation course - if required
# Concentration course - Interdisciplinary Business
Fall and Spring terms: The class listed first is Friday night (4-9:30pm) and the class listed second is Saturday morning (8am-1:30pm).
For Summer A and B terms: Classes meet both Friday night (4-9:30pm) and Saturday morning (8am-1:30pm).
Download: MBA Weekend Cohort Fall 2013-Summer 2015 Schedule (PDF)
Fall 2012-Fall 2014
Semester
Dayton 3 Campus Courses
Fall 2012
MBA 7500
MBA 7600
Spring 2013
MBA 7100
MBA 7520
Summer 2013
MBA 7300 

(

F and S(A))
MBA 7800 

(

F and S(B))
Fall 2013
MBA 7220 (F)
MGT 7060 (S)
Spring 2014
MBA 7550 (F)
MGT 7660 (S)
Summer 2014
MGT 7210 (F and S)
F = Friday (4:00–9:30 p.m.)
S = Saturday (8:00–1:30 p.m.)
Download: MBA Weekend Cohort Fall 2012-Summer 2014 Schedule (PDF)