Overview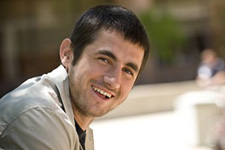 The Department of Management and International Business offers majors in Management, Human Resource Management and International Business plus minors in Management, International Trade and International Business (for non-business majors). The College also offers a Master's of Business Administration with concentrations in Project Management and in Management, Innovation and Change.
Students can develop their leadership skills, extend their learning beyond the classroom and set themselves apart in the job market by getting involved in a variety of student clubs including the HR Club, The International Business Club and the Management Club.
Academic honor societies in management and international business also allow students to underscore their academic excellence and differentiate themselves to potential employers.
Department faculty also mentor students in all business majors by helping them to compete and excel in national case competitions in ethics, strategic management and the Society for Human Resources student chapter competition.
News & Updates
Meet Our Students, Alumni, and Faculty
Derick Whitt
'08 B.S.B. International Business
Even before I graduated, I had a full-time job offer with Procter & Gamble in Chicago. I was selected for the summer intern program with P&G the summer of my senior year. The interview process was intense. Out of about 650 initial applicants, 20 were selected from top schools such as Harvard, Carnegie, Yale, Duke, OSU, WSU, and other universities. I started as a Customer Business Development Specialist, working with hotels, food services, and other commercial industries, representing their Pro Line products. Since being with P&G, I have had received two promotions and help to manage the Duracell product line.
Justin Brackenhoff
'08 B.S.B. Business; '09 Management & HR Management
"This past school year I was the President of the Human Resources and Management Club. I led the HR Club to earning a superior merit award from The Society for Human Resource Management (SHRM) for the seventh consecutive year. I also led the Management Club to place second in the nation for small chapter performance from The Society for Advancement of Management (SAM). For the past three years I have been on the Management Student Advisory Board providing the Management Department with student input for improving the Management and HR programs."
Internships
Internships are an excellent way to extend your learning beyond the classroom and gain a head start in your chosen career field.  Internships can be completed for academic credit or not for credit.
Students who wish to earn academic credit for their internship, must first obtain approval from the designated faculty member for their major.  Details for earning credit for an internship in your major are outlined at the links below:
HR and Management Internships
Benefits for Students
Receive academic credit with prior approval from the designated faculty member for your major
May receive financial compensation from the internship employer
Identify a future potential employer
Gain real world experience
Explore careers in your major
Building a solid network of contacts with business executives
Gain an edge over individuals who have not had real world experience
Provide employers with fresh perspectives and valuable skills
Strengthen your resume
Benefits for Employers
Test entry level students for potential full-time employment
Gain fresh and leading-edge insights from interns with foundations in the latest business theory, concepts and best practices.
Recruit and evaluate talent at no cost for your organization
Please provide a brief job description, required skill sets, required working hours per week, work location, paid or unpaid hourly wage (recommended minimum wage or higher depending on skill set to attract the best candidates). Please post the position with Wright Search to reach the broadest number of qualified candidates. Lisa K. Duke  can assist you in using Wright Search and developing customized recruiting programs for interns or full-time experienced employees at no cost to your firm.  
If you also email the job posting to rscob-admin@wright.edu, we can post the position with your permission and email to students in appropriate majors and to faculty members to promote to students in the classroom and on department bulletin boards
Tips for Finding Internships and Employment
Develop a professional resume and cover letter. Meet with Lisa Duke in Career Services to develop your resume, cover letter and a job search strategy. 
Get advice from faculty members in your major. If you want to earn credit for your internship, you must first meet with the designated faculty member for your major. 
Network, network, network. Let faculty members, family, friends, fellow classmates and work associates know you are looking for an internship or career employment. Get active in student clubs and professional associations in your chosen field. Attend their continuing education and social events on-campus and in the business community.
Useful links
More tips for networking and finding intern and employment opportunities.
From Wright State Career Services: Resources for Finding Jobs
From Monster.com: 6 Job Networking Tips for New Grads
Attend job fairs on campus and special job fairs. These fairs are held frequently at the Student Union and Nutter Center and by major employers moving to the region (e.g. WilmerHale, Caterpillar, Payless, Code Blue,Tata Business Consultancy).
Keep your resume posted and current on Wright Search. Many employers look exclusively for candidates on college career sites to recruit talent for their organizations.  If your resume is not on Wright Search, you may never even be considered by some employers.
Check out the weekly job listings on Wright Search. For your convenience, we post the new jobs added to Wright Search on the College homepage under the News section. At a glance, you can see what new positions have been posted for the past two weeks
Check out the on-campus interview schedule on a weekly basis.  Many companies and organizations (e.g. Wright Patterson Air Force Base, CareSource, major accounting firms) hold on-campus interviews with very short notice. The positions for these on-campus interviews may or may not be posted on Wright Search. 
Read your Wright State email. The College of Business and Wright State Career Services also announce valuable intern and career employment opportunities – especially for those with short application deadlines. 
Develop and implement your job search strategy. Develop an integrated marketing and sales campaign to get the internship or job you want.

Identify and continually work a "prospect funnel" of 10 or more intern or full-time job prospects. 
Apply on line directly with companies. 
Review the company's website special internship or entry-level hiring and training programs. 
Ask your networking contacts, faculty, family, friends to introduce you to people who are already working in your target companies.
Contact companies for job shadowing and exploratory conversations – even if there are currently no openings in the company.   
Use print, email, social media and phone follow-up.  
Communicate a unique, professional and consistent value proposition for potential hiring companies wherever and whenever you present yourself (print resume, cover letter, Facebook, LinkedIn, Plaxo, YouTube, etc.)
More tips for preparing a self-marketing packet

Prepare for the interview, job fair or job shadow.   Career Services offers a full array of job interview skills including mock interviews with videotaped feedback. Practice with classmates, club members, family and friends by anticipating questions employers will ask on interviews. 
Follow-up after the interview.  Don't forget to write a thank you note and follow-up. If you did not get selected for the job, be positive. Thank the employer. Ask for areas where you can improve. Let them know if you are still genuinely interested in future opportunities at the firm.  Keep the door open. 
Contact
Management and International Business
100 Rike Hall
3640 Colonel Glenn Highway
Dayton, OH 45345-0001
Phone: (937) 775-2437
Email: rscob-admin@wright.edu