Wright State University has several scholarship opportunities available to students in different phases of their education. These scholarships are based on academic excellence and talent.
Continuing Students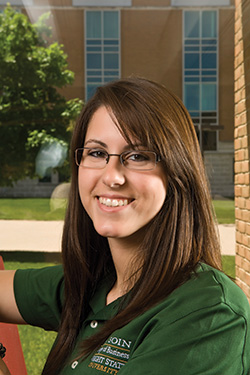 Last year 150+ Raj Soin College of Business students were awarded more than $197,000 of scholarships from the University, the College and/or the Academic Departments.
The scholarship process requires an online application which includes, essay, list of activities, and a recommendation. A single scholarship application allows students to be considered for University, College, and Department scholarships.
Most scholarships are awarded based on merit. However, there are scholarships for students from under-represented populations, for non-traditional women, and for graduates of Fairborn High School.
Students who have been accepted into the Raj Soin College of Business qualify for Continuing Undergraduate Scholarships.
Apply each year by February 18 by completing and submitting the Wright State University online scholarship application. The College Scholarship Committee will review all applications and award scholarships in the spring term for the following year. Scholarship recipients are also recognized at their academic department's annual spring awards event.
 In addition, check each January with your Academic Department to see if any special, one-time scholarships are available for the upcoming academic year.
First-Year, Transfer, & Returning Adult Students
A wealth of scholarships are also available for first year students, transfer students and returning adults.
Other Financing Options
External Scholarship Programs
You can research external scholarship. Beware of any organization that asks for a fee to find scholarship information. You don't have to pay! Find scholarship information for free!
FREE! Scholarship Search Sites and External Scholarship Opportunities
Visit the RaiderConnect website to learn about Loans, Scholarships, and Grants.
Explore additional sources of federal and state student aid (FSA), student loans and grant programs. Schedule an appointment with a Financial Aid adviser.
Visit the Career Services website to find on-campus jobs.
Career Services posts all on-campus student job opportunities on line. Explore jobs that will develop your skills and enhance your experience.