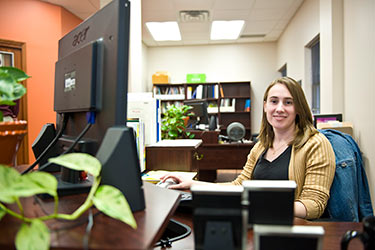 It's never too early…or too late to start managing your career in business. The Raj Soin College of Business is committed to helping students and alumni achieve their life-long career goals. We have a Career Management Mission- "To support the Raj Soin College of Business students in transforming their passions into meaningful careers by teaching lifelong career development strategies and connecting students, faculty, staff, alumni and employers."
In collaboration with Wright State's Career Services, the College sponsors an ongoing series of recruiting and networking events to assist businesses in identifying the talent they need. In addition, on-site interviews and online career services can be customized to match the best candidates with potential employers.
Check out the job opportunities and post your resume online today on The Wright Search. Career Services helps students and alumni through all phases of the career development process, from exploring careers, to enhancing their experience and seeking employment.
For your convenience, we also post new jobs from Wright Search each week.
Student Resources
The Office of Career Management can provide career and internship search assistance to undergraduate and graduate students.
Career Search Resources
Manage Your Professional Image
Interviewing
Employer Resources
The Office of Career Managemetn can assist employers with posting job and internship opportunities, attending on-campus recruiting events, conducting on-campus interviw sessions and searching resumes for qualified candidates.
Undergraduate Program Information
Graduate Program Information