About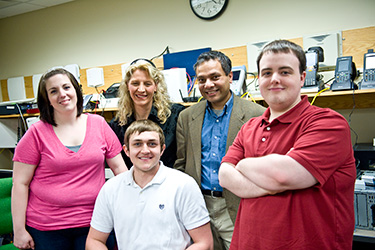 The RFID Center is an interdisciplinary collaborative research and development initiative established at the Raj Soin College of Business at Wright State University. Established in June 2006, this center spans the College of Business as well as the College of Engineering. The center's primary site of operations is the RFID Lab at 261 Rike Hall.
The RFID center consists of four faculty members, graduate and undergraduate students from both the College of Business and College of Engineering. The main function of the lab is to identify potential areas of cutting edge research and development in the field of RFID, and provide education on this emerging technology to current and future professionals in and around the Miami valley.
The following are some of the current activities of this center:
Undergraduate level courses: MIS 4800, Introduction to RFID for Business is a new course currently offered by Dr. Sengupta as a special topics elective. A full minor program centered around RFID is also currently in the planning process.
Grant proposal development: The center is currently focusing on developing project proposals to solicit federal, state, as well as industry-level funding.
Certification training: One goal of the center is to provide training, not only to WSU students, but also to professionals for vendor-specific as well as vendor-neutral training. Currently participating faculty are RFID+ certified, as well vendor-certified by Alien Technologies and Thingmagic.
Research and development: The most important goal of this center is to create research projects that would lead to innovations, products and publications.
Consulting: The center is qualified to provide consultation services to organizations planning to deploy RFID-based systems in their businesses.
Projects
FlexRFID
FlexRFID is a novel method for modeling RFID-based control applications. These application occur in most common business processes. Using FlexRFID, clients can configure fully functional RFID-based systems without the necessity of any major development effort.
Automated Parking lots using RFID and sensor networks
Automating parking lots in the university using RFID-enabled gates to allow hands-free automated access to patrons to the campus parking lots.
Proposed Future Projects
Supply-chain automation
RFID middlewares
Publications
A. Sengupta. FlexRFID: "A Control Logic Architecture for Fast and Flexile RFID-based System Design". In Proceedings of the 16th Workshop on Information Technologies and Systems (WITS-2006). Milwaukee, WI. Dec 9-10, 2006.
A. Sengupta. "You've got RFID… Now What? Be Flexible… Do FlexRFID!" in Technology First, Dayton, January 2007. p.9
A. Sengupta and R. Pal. "On the use of RFID in Automobile access management in Parking and Transportation Applications". Submitted.
Affiliates
American Trim

Booz, Allen, Hamilton

International

Members
Director: Dr. Arijit Sengupta, Faculty, ISOM
Faculty members:
Dr. Vikram Sethi, Faculty, ISOM
Dr. Xinhui Zhang, Faculty, Industrial Engineering
Dr. Shu Schiller, Faculty, ISOM
Student members:
Doug Gallivan, MIS
Ghazale Jafari Haddadin, Finance (MBA)