Undergraduate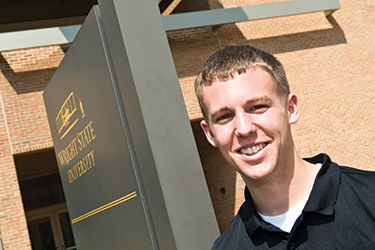 All students who are interested in a degree in business should apply through Wright State University's Office of Undergraduate Admissions. When applying, students should indicate on the degree application their preferred major within the college. Students are required to complete the program of study that is in effect at the time of their admission to the Raj Soin College of Business. Specific requirements for admission to the college are listed below.
Admission from University College and Other Wright State Colleges
The Raj Soin College of Business has a two-tier admission process. Students in University College or another Wright State College must meet the following Tier I requirements to be admitted to the College:
Tier I:
2.5 minimum cumulative grade point average
30 semester credit hours earned
Tier II:
Students are required to complete all of the following Tier II courses before granted full-business status:
ENG 1100, 2100
MTH 2280
ACC 2010, 2020
EC 2040, 2050
FIN 2210
MS 2040, 2050
MKT 2500
In the semester that the last Tier II requirements are scheduled, students will automatically be transferred from a pre-business to a full business major status. This allows you to enroll in upper level business courses. If this has not occurred, and you can't register for upper level classes please contact the advising office for assistance.
Direct Students
The Raj Soin College of Business also offers direct admission to first year students who meet the following criteria:
3.25 High school Grade Point average
22 ACT score (or 1030 SAT score)
Transfer Students
Transfer students seeking admission to the Raj Soin College of Business must also satisfy the criteria for Wright State University students that are listed above. Acceptable transfer credit will satisfy any of the above requirements.
The Raj Soin College of Business advising staff and faculty are available to meet with you to discuss your career goals and to ensure that the courses you are taking at your current community college will transfer.

Just call (937) 775-2437 or email rscob-admin@wright.edu to set up a personal advising appointment at your convenience. Summer is a great time to meet with one of our advisers and tour Rike Hall the home of the Raj Soin College of Business. We want to be sure that you get the information and support you need. We are here to help you:
Explore  the unrivaled value offered by our affordable tuition and dedicated faculty who focus on your success beyond the classroom.  
Understand how a four-year degree can enhance your career opportunities, earnings power and job security
Plan your academic schedule to graduate on time for the lowest possible cost
We look forward to meeting you in person and assisting you in your transition to the Raj Soin College of Business and Wright State University.
Helpful Links
Returning Students
Students who return to Wright State after being absent for three or more semesters must reapply for admission and satisfy the same admission requirements listed above. Returning students will be required to complete the program requirements that are in effect at the time of their re-admission to the Raj Soin College of Business.
Enrollment in Upper-Level Business Courses
Enrollment in upper-level business courses is restricted to students who have been admitted to the college, completed the Tier II requirements, and attained junior standing. This ensures that students have the appropriate pre-requisites and an adequate foundation for their professional course work in business.
Graduate
It's easy to apply. Just submit the following items:
Application for admission - Apply online
$40 non-refundable application fee
Submit all undergraduate and graduate transcripts directly to the Graduate School and show proof of an earned bachelor's degree from an accredited college or university.
Take either the Graduate Record Examination (GRE) or Graduate Management Aptitude Test (GMAT).
Submit your application materials to:
Graduate School
E344 Student Union
Wright State University
3640 Colonel Glenn Hwy.
Dayton, OH 45435-0001
Applications for admission and supporting credentials should be received at least four weeks before registration for the semester in which the student wishes to begin graduate study.
---
International Applicants
In addition to the above, international applicants must also submit:
A minimum score of 213 (CBT) or 80/120 (IBT) on the test of English as a Foreign Language (TOEFL) or a band 6 Through International English Language Testing System
Financial Statement form
For full consideration, please complete the application process by May 1 for Fall admission.
International students should complete the admissions checklist on the University Center for International Education Graduate Admissions website. This checklist outlines additional application requirements including English language proficiency scores, student VISA and other immigration and financial documentation. Their office is located in E190 Student Union, (937) 775-5745.
---
Both full and part-time students are accepted for admission to the program.
Students may obtain both the Master of Business Administration degree and the Master of Science degree in Social and Applied Economics under the dual degree program. This policy does not apply to students who receive an MBA degree from schools other than Wright State University.
Financial assistance is available through the Graduate School, the Raj Soin College of Business, and the Economics Department.