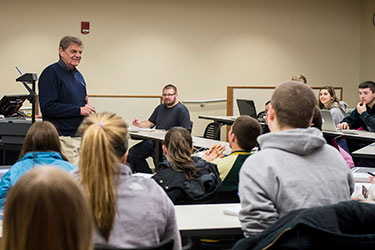 The Department of Economics offers an innovative Master of Science program in Economics. The M.S. in Social and Applied Economics program accepts qualified applicants with undergraduate degrees in any field, and provides them with a specialized graduate education in economics which promotes effective decision-making. A complete list of required and elective courses is available on the Social and Applied Economics Curriculum webpage.
For more information please contact our Program Director Thomas Jenkins at thomas.jenkins@wright.edu or (937) 775-2419.
Program Features
Convenience: All classes are conducted in the evening, making the program ideal for working adults
Efficiency: Full-time students complete the program in 12 months
Uniqueness: Our Master's degree is unique in this region of the country by virtue of its innovative blend of applied and social economics
Solid Foundation: Students study applied microeconomics and applied macroeconomics
Social Economics: Students examine how social institutions, norms, ethics, the evolution of economic production and consumption, the environment, and many other factors influence and shape an economy
Applied Analytics: Students learn to statistically analyze data in order to evaluate policies, make decisions, forecast, and plan
Hands-on Experience: Over the course of the program, each student builds a portfolio of applied analytical reports in their coursework that are used to successfully demonstrate their abilities to employers
Award Winning Faculty: Courses are taught exclusively by full-time economists holding doctorates in the discipline. The state-of-the-art research conducted by the faculty has yielded five international, national, or university level research awards in the past seven years.
Experienced Faculty: Our faculty has served as consultants and advisors to many prominent government agencies, nonprofits, and corporations, including the U.S. Department of Housing and Urban Development (HUD), the U.S. Nuclear Regulatory Commission, the State of Ohio, the Rand Corporation, Dayton Power and Light, Reynolds and Reynolds, and the Educational Testing Service.
Marketability: The M.S. in Social and Applied Economics is an exceptionally versatile degree. Our graduates are employed in wide array of industries and occupations in both the private and public sectors.
Further Studies: Students who choose to pursue further education have been admitted to and successfully completed doctoral studies in economics, finance, accountancy, and political science
High Employment Demand: Our program enjoys a placement rate of nearly 100% in occupations requiring a master's degree.
Select: Our program has been selective in admissions since its inception in 1970
Affordable: Wright State's in-state graduate tuition is one of the best values in Ohio. In addition, scholarships and assistantships offered to strong applicants.
---
Dual Degree and combined Programs with the M.S. in Social and Applied Economics
Students have the opportunity to earn an M.S. in Social and Applied Economics along with a second degree with fewer credit hours than are required of the two programs separately. These degree programs are:
Combined B.A. in Economics and M.S. in Social and Applied Economics Program
Combined B.S.B in Business Economics and M.S. in Social and Applied Economics Program
Dual M.S. in Social and Applied Economics and Master of Business Administration (M.B.A.) Program
Dual M.S. in Social and Applied Economics and Master of Public Administration (M.P.A.) Program
Please contact the Department of Economics to learn the specific requirements for these dual degree and combined programs.