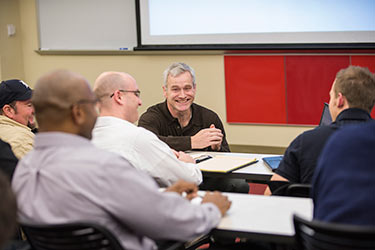 The one-year M.S. in Logistics and Supply Chain Management degree is fully AACSB International accredited and consists of four (4) residencies and online study. It is designed to meet the educational needs of managerial and operational employees who have logistics, inventory, procurement, management, or decision-making responsibilities.
Designed for Your Busy Schedule
The Master of Science in Logistics and Supply Chain Management is designed for working professionals who cannot always take time from work to enhance their education. We offer a high-value one-year program with a convenient blended education approach. Students spend four residencies throughout the year on campus. The remaining course work is completed using our proprietary e-learning modules prepared by experts in their fields.
One-year program with leading-edge curriculum
9 online courses and a capstone project
4 on-campus residencies (for a total on 11 days on campus)
World-class faculty and partners
Supported by the latest in online learning technology
Focused on industry relevance and ROI for your organization
Why M.S. in Logistics & Supply Chain Management?
Now more than ever, success in most businesses depends on the successful management of Supply Chain Operations. Consider what happens when supply chains fail to deliver and stock outs occur in retail stores. Research shows that retailers can lose nearly half of intended purchases when customers encounter stock outs.
Organizations such as Wal-Mart, Sony, Dell, SUN Microsystems, and DaimlerChrysler depend on their supply chain systems to deliver the right products at the right time. These companies succeed with:
Crafting customized supply chain architectures: Designing supply chains for delivery cost savings, speed, and managing business transitions
Leveraging innovation: Leaders in supply chain management apply new technology and new process thinking to great advantage
Managing the supply base: Flexible sourcing, supplier integration, and part management
Aligning supply chain partners: Building efficiencies through trust, common values, and goals
Implementing optimal measurement and controls: Creating the right metrics for operations based on appropriate incentives and penalties
The Master of Science in Logistics and Supply Chain Management program is designed to provide students with the graduate education that will enhance their leadership careers in the field of logistics and supply chain management.
The program aims to enable students to craft technology-rich supply chain architectures, instill rapid innovation into supply chain design, efficiently manage the supply base, align partners through trust and common values, and create the right metrics for supply chain networks.
The M.S. program is a one-year, 33-credit hour, lockstep, cohort-based program. The program blends intensive physical in-class residencies with online e-learning segments. The in-class residencies are scheduled between the e-learning segments and include case studies, leadership lectures, breakout sessions, and simulation assignments. E-learning segments add learning activities such as interactive cases, pedagogical discussions, and proprietary teaching material built by global subject matter experts.
The program concludes with the capstone project in which students apply and integrate program content to complete an intensive project assigned to them by their organization. At the end of the project, the students present their project to faculty advisors, sponsoring organizations, and other professionals.
Final projects average $1M in savings for IS and $5M for supply chain masters programs - Read the full story "Lightning Strikes at Wright State for Air Force, Businesses"