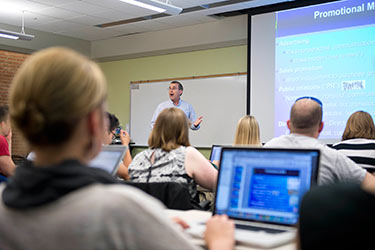 Are you looking for a degree program that prepares you for exciting, in-demand careers in virtually any industry? Consider a Marketing degree from the Raj Soin College of Business at Wright State University.
A degree in Marketing prepares you for professions in both business-to-business and business-to-consumer organizations in such areas as:
Advertising and Public Relations
Customer Service
Digital and Direct Marketing
Event Planning
Market Research and more
With one of the lowest tuition rates among Ohio business schools, the Raj Soin College of Business at Wright State University enables you to pursue a bachelor's or master's degree in Marketing – affordably. Or you can choose to complement your chosen degree with a minor in Marketing, allowing for greater flexibility when you hit the job market.
Get Real-World Experience with Your Education
Wright State University offers a competitive Emerging Marketing Leaders Program that provides scholarships and mentoring and learning opportunities with our board and local marketing executives.
The Department of Marketing at the Raj Soin College of Business also supports an internship program that enables you to apply what you learn in the classroom at some of the biggest organizations in the region, spanning business services, government, healthcare, manufacturing, media, and retail industries.
In addition, you can team up with your fellow students to enhance your marketing skills through the Marketing Club, a collegiate chapter of the American Marketing Association.
Why Wright State University?
You aren't just a number when you attend Wright State University. From our modest class sizes to our experienced, caring faculty members, Wright State University is dedicated to helping students successfully navigate the path from education to career. 
Want to learn more? Contact us, or visit our office at 100 Rike Hall to learn more about undergraduate and graduate Marketing programs at Wright State University's Raj Soin College of Business.