For the first time in the history of the Institute of Management Accountant's National Student Case Competition, two teams from the same college of business have advanced to the final four championship, which will be contested in Chicago this summer.
The Raj Soin College of Business is that college, and is the only four-time winner of the case competition. Employing the topic of earnings management in financial reporting, the case confronts the complex ethical issues facing financial managers today. Under the tutelage of John Talbott, professor accountancy, the teams will make a live presentation to a panel of judge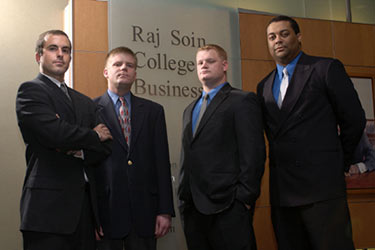 s and then provide a response to the judges' questions.