Two MBA student teams from Wright State's Raj Soin College of Business were among the top 50 semi-finalists in the 2008 Google Online Marketing Challenge in the entire North and South America region.  More than 1600 student teams from 47 countries took part in this global online marketing competition. The teams received $200 dollars of free online advertising with Google AdWords to develop an effective online marketing campaign for a local business. An international panel of judges evaluated the students' marketing recommendations, their online advertising campaign and their ability to monitor and adjust results for their clients. Two additional Wright State MBA teams were also recognized in the top ten per cent in the finals for North and South America.
"This worldwide recognition certainly underscores the caliber of our MBA students and the quality of our marketing curriculum. Each team member demonstrated their outstanding ability to combine insightful marketing strategies and leading-edge technology to improve business results for their clients," said Charles Gulas, Associate Professor of Marketing, who also evaluated the students' efforts in their upper-level MBA marketing classes.
The top 50 team consisting of Roger Fenner, Jennifer Straight, Kristin Sanders, Kari Toth, Chris King, and Victoria Masukevich focused their project on Watershed Solutions LLC, a firm which specializes in ITIL, service management training and consulting services. The goal for the campaign was to improve public awareness of the client's business within a 500 mile radius of Cincinnati and to position Watershed Solutions for future growth through search engine marketing. "This was truly a team effort with everyone contributing their best ideas to assist a local business while implementing the latest e-marketing strategies and technologies, said Roger Fenner. He added, that their client considered their marketing efforts to be a success in generating new business for the company.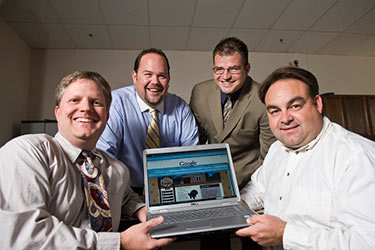 The top 50 team of Andy Blumberg, Brian Coty, Edwin Stamper, Jerry Fraley, and Josh Brown chose Buckeye Select Kennels (BSK) for their client. BSK provides attentive, high quality dog boarding and grooming services. The students developed a campaign that incorporated attributes of their client's business to attract potential customers. The team's three-part campaign included a "small radius" campaign within a 15-minute drive of the client's location, a "large radius" campaign within 30-miles of the client's location and a keyword campaign to target specific segments and online communities. "Our client and the team were thrilled when BSK had an increase of 300 percent in their web traffic and a large increase in call volume," said Andy Blumberg, team captain.
The following MBA students were also recognized by Google's international panel of judges finishing in the top ten percent of North and South America. They include: Matt Voisard, Amanda Harris, Tony Moffett, Harry Benson, Rachael Barnum, Badia Kaidi, Megan Oyler, Kristy Roberts, and Ritish Kolhapure.