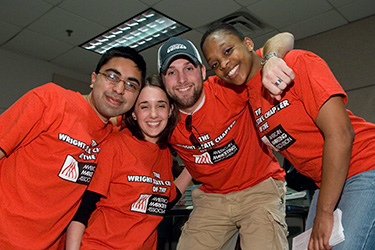 Whether you are a first year student transitioning to college life or an experienced working professional, the Raj Soin College of Business at Wright State University offers a variety of activities, services and convenient class times to help you achieve your career goals and develop a life-long network of supportive friends and colleagues.
The Raj Soin College of Business faculty and staff are dedicated to helping our students achieve their highest possible potential. Students at all levels can extend their learning beyond the classroom and differentiate themselves in the job market through a variety of options.
Undergraduate Students
A number of services tailored to the needs of first and second year students and students accepted into the Raj Soin College of Business ensure your academic success and help you meet new friends. For example, the:
First Year Learning Experience offers a Learning Community just for business majors along with a myriad of activities and service learning projects which extend your learning beyond the class room.
Academic Success Center offers personal tutoring and structured classes in writing, math and other areas throughout a student's academic experience
Choosing Your Major and Career - The College offers BUS 100 - Horizons in Business which allows students to explore the curriculum and careers associated with each of the ten undergraduate business majors offered by the College. In addition Career Services offers an array of services to determine your interests and skill sets including an on line course, LA 210 Effective Career Planning.
Graduate Students
Because the vast majority of our masters students are working full-time, students want flexibility in selecting the academic program and class times that offer the optimal balance among their career development, professional and personal priorities.
Cohort Programs
Many students value the cohort option for the weekend MBA, supply chain and information systems programs because they begin and end each program with the same group of working professionals. The small classes sizes for the evening MBA program, Accountancy and Social and Applied Economics programs also foster networking and professional relationships among students and faculty.
Social Media
Social media groups are a great way for working professionals and alumni to stay in touch. Once you are accepted into your masters program, you can join your program's group on LinkedIn, Facebook and other social media sites. For example, students and alumni can join: