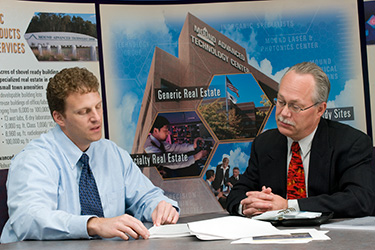 The Center for Innovation Management (CIM) is an applied research center providing business research, analysis and planning assistance to companies, inventors and investors in the Dayton region that have a goal of commercializing technologies, thereby creating jobs in Ohio.
Have the Center for Innovation Management at Wright State University help you with your business needs today!
Services
Services offered include:
Market research
Value proposition evaluation
Economic payback analysis
Customer needs and buying behavior research
Competitor analysis
Due diligence and "pre-diligence" of entrepreneurial market opportunities
Target market selection
Channel selection and channel analysis
Alliance partner screening, including product acquisition alliances
Prospect list generation
Fees
Clients are required to reimburse CIM's costs for providing services Prior to initiating a project on behalf of a client, CIM will estimate costs and provide a quote with a statement of work. Costs are consistently lower than the fees charged by consulting firms.
Previous Clientele
Applied Sciences Inc.
Composite Advantage
Cornerstone Research Group
IMX Solutions
Innovative Scientific Solutions Inc.
Life Science Services International
Tool Tech Inc.
Case Studies
Cornerstone Research Group (Beavercreek, OH)
Client Needs
Cornerstone Research Group needed research and analysis to assist in the commercialization of Rec'Repair, the company's superior alternative to duct tape, for fast, easy repair of breaks, cracks, and tears of outdoor equipment.
Services Performed
To assist with the ongoing effort to commercialize Rec'Repair, CIM agreed to examine the market opportunity, suggest a go-to-market strategy and provide insights into customer behavior and competing products.
Deliverable
CIM provided Cornerstone with market size and growth rate information for a variety of outdoor sports. We evaluated the competitive environment and critiqued Rec'Repair's value proposition relative to its closest competition. Additionally, CIM suggested a go-to-market strategy with promotional campaign recommendations.
"The report provides some great information. Some VERY useful information.  I have used the information in it to prepare a business plan for the Rec'Repair product for the next 18 months.  The report reflects the best course for the product and market we need to be targeting. I want to thank your team for the wonderful job on this." — John Riggins, Operations Manager, CRG Industries
Applied Sciences, Inc. (Cedarville, OH)
Client Needs
Applied Sciences, Inc. (ASI) consulted CIM to discuss the possibility of CIM performing research and analysis to assist with the commercialization of nano-enhanced polymers for tooling. ASI needed to quantify and segment the market opportunity for the use of nano-enhanced polymers to replace metal tools in several manufacturing operations.
Services Performed
CIM performed significant research to quantify and segment the market opportunity for the use of nano-enhanced polymers to replace metal tools. Additionally, CIM attempted to characterize the problem of U.S. and Ohio manufacturing job loss in the tool and die and related industries that might be reduced through the advent of domestically-produced, nano-enhanced polymeric tooling as an alternative to foreign-produced metal-based tooling.
Deliverable
CIM's report for ASI contained market size and growth rate information for a number of molding and tool and die industry segments, as well as trends within those segments. CIM also provided ASI with a wealth of data regarding the migration of jobs to overseas competitors in the current metal-based tooling industry.
"The report is very good. It has a lot of useful information." — John Mackay, Director of Marketing & Communications
Tool Tech, Inc. (Springfield, OH)
Client Needs
Tool Tech had considerable confidence in the opportunity to sell its ergonomic handcart, Uplifter, to the beverage distribution industry, but wanted additional evaluation and quantification of that opportunity in terms of market size, attractiveness and price points. CIM agreed to conduct a study for Tool Tech to help substantiate Uplifter's market opportunity.
Services Performed
CIM's approach included reviewing trade publications and industry association materials, calling ergonomists and calling potential customers for the Uplifter. From this we were able to provide Tool Tech with a detailed report substantiating Uplifter's market opportunity.
Deliverable
CIM's report for Tool Tech contained our findings regarding the following: Size of Uplifter's potential market in the beverage industry; Potential for government sales of the Uplifter; Alternative markets for the Uplifter; Value proposition and suggested price for the Uplifter; Product comparisons; Opinions of potential buyers; Opinions of government ergonomists; Concerns with imitation by competitors and sustainability of competitive advantage; Attractiveness of the competitive environment; Go-to-market strategy recommendations; Possible contacts for Tool Tech; and Industry associations and publications to monitor, and meetings to attend.
 "Thank you for a great job.  I'm impressed with the level of detail you were able to provide in such a short period of time." — Dick Spies, Owner, RS Management Group
National Composite Center (Kettering, OH)
Client Needs
The National Composite Center (NCC) asked CIM to assist with the development of a business plan to help document and structure the function and operation of its new Dayton Campus for Advanced Materials Technologies (DC-AMT).
Services Performed
After interviewing Vice President Phil Mowry, CIM organized the NCC's proposed roadmap for the Dayton Campus into a structured business plan. CIM reviewed best practices for business incubators. Furthermore, CIM outlined a number of strategies to further develop DC-AMT.
Deliverable
CIM's report for the NCC contained the core elements of a business plan with strategy recommendations to further grow DC-AMT. CIM provided suggestions for how to promote and market the new facility, how to acquire tenants, and how to form and use a governing board.
 "Your analysis was excellent. The information on industry trends and best practices was very useful. The strategy suggestions were also very helpful. We have used most of your report in our business plan." — Phil Mowry, Vice President
About Us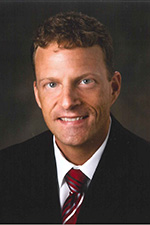 Executive Director
Scott D. Williams, Ph.D., is a Professor of Management in the Raj Soin College of Business at Wright State University, and has served as the Executive Director of the Center for Innovation Management since its launch in 2006. He has more than a decade of consulting. research and teaching experience in the field of innovation management. His research has been featured in numerous journals and he has received multiple awards fir excellence in teaching and research.
Scott Williams
Executive Director
(937) 775-4513
scott.williams@wright.edu
Contact
If you would like to receive more information about the Center for Innovation Management or need assistance in commercializing a new technology, feel free to contact us by email or telephone.
Center for Innovation Managment
197 Joshi Research Center
3640 Colonel Glenn Hwy.
Dayton, OH 45435-0001
(937) 775-5201
rscob-cim@wright.edu