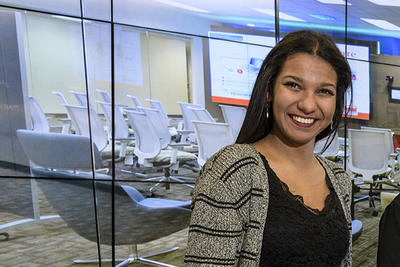 Without Wright State University, Sarika Sivagnanam might not be working today as a data analyst at CareSource, a Dayton-based, nonprofit health insurance company that offers plans for the uninsured. 
Sivagnanam, who graduated from Wright State University in December 2017 with a Bachelor of Business in management information systems, first got her foot in the door at CareSource as an intern. She learned about the opportunity from Shu Schiller, chair of Wright State's Department of Information Systems and Supply Chain Management.
After a successful internship, Sivagnanam was hired as a full-time member of the CareSource team.
"The experience that I had at Wright State really helped with the programs I'm working with now," says Sivagnanam. "The professors not only introduced us to programs that are useful for what I do today, but they were always available to help with anything. I feel the professors really reached out and extended themselves above and beyond."
Sivagnanam also has high praise for the technology that is available for students to use in the Raj Soin College of Business. She was especially impressed with the Data Analytics and Visualization Environment, or DAVE lab. Opened in 2015, the 1,000-square-foot lab utilizes a mini-supercomputer and visualization software to teach students business analytics.
"The DAVE lab is a great classroom," says Sivagnanam. "It was definitely a different experience than walking into a regular classroom. It was a very hands-on experience. You got to work with other students more frequently. The class size was a little bit smaller, so the professors were able to really reach out and answer any questions that you had."
Sivagnanam first learned about Wright State when her father was a professor at the Lake Campus. Her older sister, Priya, also graduated from Wright State.
"She would talk about what a great experience she had," Sivagnanam recalls.
After taking classes at the Lake Campus for three years, Sivagnanam completed her degree at the Dayton Campus.
"I really enjoyed the feel of the campus," she says. "I like that it wasn't as big as some schools. I really feel that adds to more of a community experience."
Sivagnanam enjoyed student life on both campuses and bonding with other students through class projects.
"I feel that I made a really good choice," she says. "I have no regrets about going to Wright State."
Sivagnanam is especially grateful that Wright State connected her to the internship at CareSource, which led to the job she has today.
"In my program, they did a fantastic job of reaching out to students and letting them know about the opportunities," she says. "Internships add that extra bit of experience and knowledge. There is only so much you can learn in a classroom. Internships are a great way to get experience."
Looking ahead, Sivagnanam is excited about continuing her career at CareSource and expanding her skills as a data analyst.
"Every day is a learning experience," she says. "I really enjoy my co-workers. They're all very helpful. It's a great place to work."
She's also happy to recommend her alma mater to future students.
"If you really take advantage of what Wright State has to offer," she says, "you will succeed."