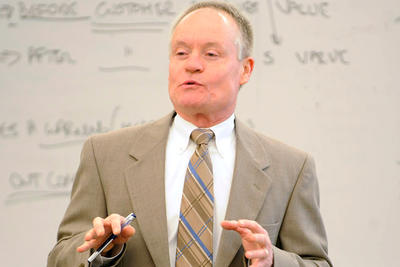 George Polak knew that Wright State University was the right place for him.
"I felt it was a good fit when I came to interview," he recalls. It's been 30 years since that job interview, and Polak is still part of the faculty at the Raj Soin College of Business.
Over the years, he's witnessed tremendous growth and transformation at Wright State, both in the physical footprint of the campus and in the educational opportunities offered to students.
"It looks like a real university campus now, but that's all superficial," says Polak. "The real changes have been in building up the programs that we have in the college and across the university."
As a professor of supply chain management, Polak has seen big changes in the material that he teaches. He began his career as an assistant professor of management science, a field that has evolved into supply chain management.
"The field of supply chain management has matured over the last 20 to 25 years to the point now that it's a recognized discipline," says Polak. "Wright State was an early adopter of the supply chain management curriculum."
Polak is especially proud of the caliber of Wright State's program. The Master of Science in Logistics and Supply Chain Management has been recognized by U.S. News and World Report as one of the top 20 online programs in the nation. 
Like his teaching, Polak's research has also evolved over the years.
"When I first came here in 1988," he says, "my research interest was mathematical and statistical models in telecommunications. Wright State was very good about letting me pursue different interests, like scheduling and manufacturing. There are so many interesting problems in business where mathematics or statistics can be applied."
In 2015, Polak took a two-semester sabbatical leave to pursue his research interests. He spent time at Dartmouth College in Hanover, New Hampshire, where he worked with a well-known expert in scheduling. He also started new research that year on business forecasting.
Polak's work has been published in such highly-regarded professional journals as Productions and Operations Management and the Institute of Industrial and Systems Engineers publication, Transactions.
Polak also finds fulfillment inside the classroom where he enjoys bringing out the best qualities in his students, helping them mature, and assisting them in finding good career paths.
"It's very important to help them realize their talents," he explains.
For many years, Polak was the advisor to the operations management club. He took students on plant tours of various manufacturers, such as the Timken Company near Columbus and Setex in St. Marys. Since the club was affiliated with a professional organization of operations management professionals, he connected students to local business people.
"That was a lot of fun," he recalls.
Over the last 10 years, Polak has seen Wright State's connections with regional employers blossom even more.
"Our faculty members have always been well connected with the local business community and Wright–Patterson Air Force Base," he says. "Those were more or less informal connections. Now, we have more formal contacts and a corporate advisory board. They are very active supporters of our programs and help shape the curricula."
After more than three decades at Wright State, Polak looks forward to continuing his teaching, research, and service. He would also like to connect with his former students.
"Don't be strangers," he encourages. "My email hasn't changed in 30 years. Drop me a line and let me know how you're doing and what's going on in your life."
He may be reached at george.polak@wright.edu.
Outside of work, Polak enjoys landscaping, gardening, and bicycling. He resides in West Chester with his wife, Anne, and their daughter, Margaret.