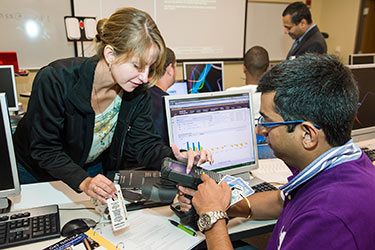 The one-year Master in Information Systems degree is fully AACSB International accredited and consists of four (4) residencies and online study. It is designed to meet the educational needs of managerial and technical employees who have IT budgetary, management, or decision-making responsibilities.
Designed for Your Busy Schedule
The Master of Information Systems program is designed for working professionals who cannot always take time from work to enhance their education. We offer a high-value one-year program with a convenient blended education approach. Students spend four on-campus residencies and complete the remaining course work using our proprietary e-learning modules prepared by experts in their fields.
One-year program with leading-edge curriculum
9 online courses and a capstone project
4 on-campus residencies (for a total on 11 days on campus)
World-class faculty and partners
Supported by the latest in online learning technology
Focused on industry relevance and ROI for your organization
Why Master of I.S.?
Corporations need data analytics and knowledge of information systems now more than ever.  These positions are in high demand and come with generous pay.
To lead a business enterprise, you need to control your business operations and directly influence IT solutions. You need to lead every aspect of your business processes. IT is an enabler, not a solution in and of itself. This program is tailored to put you in charge of your company's IT resources - rather than IT controlling you.
Our program curriculum focuses on a problem-solving approach to information management and uses a rich blend of real-life experiences, case material, and simulations through innovative, relevant, and rigorous curriculum taught by outstanding faculty and industry experts with a blend of technical and managerial skills. Students learn alongside with other business and IT leaders and accomplish capstone projects to address real problems and return value to their company.
The entire program is built on a foundation of problem-solving, student-centric experiences, and corporate involvement. The Master of Information Systems is a 33 semester-credit hour program. Of these, six hours are dedicated to an extensive Capstone project designed for the program participant by his/her sponsoring organization. The remaining 27 credit hours include course work in the front line of Information Systems domains.
"This program provides the required blend of strategic, practical, and hands-on content that is not only relevant to IT leaders, but critical to their success."
– David Hoskins, CIO, Dayton Power & Light.
Final projects average $1M in savings for IS and $5M for supply chain masters programs - Read the full story "Lightning Strikes at Wright State for Air Force, Businesses"