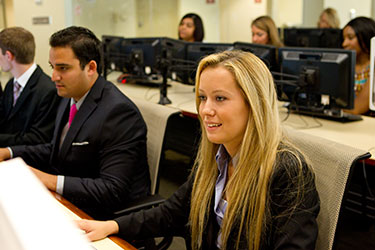 The lessons you learn on campus at the Raj Soin College of Business are more than theories and formulas. Analysis. Communication. Critical thinking and strategy. Leadership. Get the essential, concrete skills and intangibles you need to enter the workforce confidently and successfully.
Captains of industry in Ohio and nationwide play a pivotal role in driving our curriculum to be the most modern and practical it can be. This is reflected both in our status as one of the most adaptive business schools in Ohio and in the constantly evolving courses we offer.
At the Raj Soin College of Business, we balance cutting-edge coursework with relevant industry credentials to see that employers understand the value of your time spent here. Nationally accredited and recognized for highly employable career paths, Wright State is a wise place to get your MBA or an undergraduate degree like marketing, finance or economics.
Our faculty members also understand your business-world preparation relies on more than just what takes place in the classroom. That's why, across all disciplines and levels, Wright State business school programs balance rigorous instruction with real-world exposure and practice.
Take full advantage of one of the state's best academic values, and watch your career soar.
Ready to begin your business school journey – or simply ask our advisors some exploratory questions? Call us at (937) 775-2437 or visit our office at 100 Rike Hall to schedule an appointment.