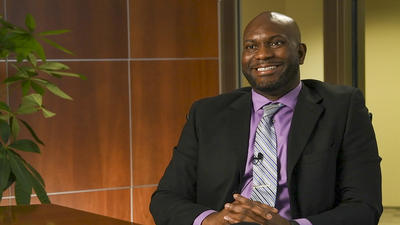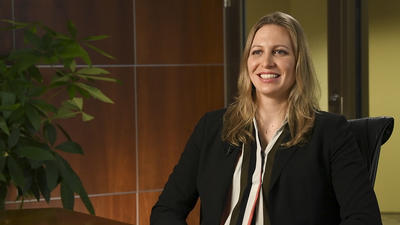 The Raj Soin College of Business started a video series, Research Insights for Business, about faculty research and real-world application and the implication it has on businesses, organizations, nonprofits, and governmental agencies. Business faculty, along with teaching, are engaged in cutting-edge research that has practical implications. Their research insights address pressing issues like prejudice in business environments, healthcare data, social security viability, marketing insights, and more. Learn from our faculty and their important research ways you can improve the place you work, whether you own your own business or work in a corporation, nonprofit, or governmental agency.
Rachel Sturm, Ph.D., is an associate professor in management and her research focuses on if there's a bias against women who are overconfident in management situations. Daniel Asamoah, Ph.D., is an associate professor in information systems and supply chain management and is studying how scientists can analyze health data through social media. Charles Gulas, Ph.D., is a professor in marketing and studies how comedic violence helps ads break through the clutter to consumers. Andrew Beauchamp, Ph.D., is an associate professor in economics and is studying out adverse selection is affecting the viability of Social Security funding.
The Raj Soin College of Business will continue to share and produce regular videos that explain how faculty research applies to real-world business and organizational environments.