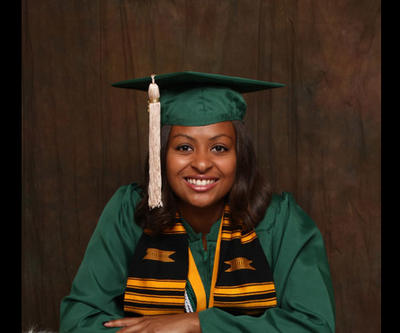 Member Dean's Student Advisory Board, Vice President, National Association of Black Accountants "It is imperative to stay up on your first year in college. Many students fall behind academically and it hurts them in the long run. Students should meet with teachers often, especially in classes where they are struggling. I cannot tell you how many times that extra effort helped my grade tremendously! Charles Long played an important role in my success at WSU. I would suggest that students meet with their advisors quarterly. I heard stories about students taking additional unnecessary classes or students thinking they are in a position to graduate and are not due to the lack of understanding and not taking the time to meet with their advisor."
Why Wright State?
I chose WSU because it was the most affordable school, and they offered me scholarship money that helped bring down the cost of tuition. I knew I wanted to go into business, and I had a love for math. So I chose finance and accounting because I felt it gave me the best of both worlds. Also with accounting and finance, I have had the opportunity to network with others in my career field. That was definitely something I wanted in addition to a quality academic program
Leadership
Vice President, National Association of Black Accountants; Vice President, Forest Lane Community Council; Treasurer ,Woods Community Council; Vice President, African American Residential Caucus; Vision Mentor, and volunteer at the House of Bread.
Internships/Class projects
I have had a total of five internships. I completed two summer internships with KPMG LLP, one summer internship with Deloitte, one internship with the WSU Office of the Controllers, and one internship with the WSU Office of the Bursar.
Career Plans
I plan on attending graduate school at the Ohio State University obtain my MBA in international business.
Most valuable experience
As a member of the Dean's Student Advisory Board, I was on a committee that hosted an event geared toward recruiting freshman into the College of Business. I definitely feel it was a great experience for a lot of the freshman to see what the College had to offer.