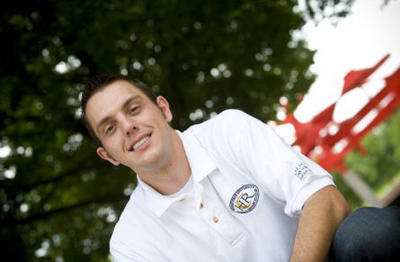 "This past school year I was the President of the Human Resources and Management Club. I led the HR Club to earning a superior merit award from The Society for Human Resource Management (SHRM) for the seventh consecutive year. I also led the Management Club to place second in the nation for small chapter performance from The Society for Advancement of Management (SAM). For the past three years I have been on the Management Student Advisory Board providing the Management Department with student input for improving the Management and HR programs."
Why Wright State?
I choose Wright State University because it was in close proximity to home and WSU offered low tuition compared to other colleges. I chose to pursue a degree in Business Management and Human Resource Management because of my interest in personnel issues in organizations and how HR activities play a key role in supporting an organization's ongoing efforts to adapt to change successfully.
Tips for Success
If there's one thing I've learned during my college years, it is that you must plan your time wisely. Time isn't set for you as it is high school; you must stay on top of things. Also, help is out there, but you need to be willing to use the many services available. Know your professor's office hours and don't be afraid to seek help. Remember that tutoring is available in most subjects and you're encouraged to use tutoring sooner than later! It's much easier to catch up in the first couple weeks of classes than the last couple weeks! Involvement in campus organizations is an important part of your college experience. The first week of classes is an excellent time to learn about various campus organizations.
Leadership
The Dean's Student Advisory Board for the College of Business ( I will be the President next year), The Marketing Department Student Advisory Board, The Wright-Patt Credit Union Young Member Advisory Panel, Chief Strategist of the Finance Club, Resident Assistant in the Honors Residential Complex and Volunteer for Project Linus.
Career Plans
I plan on obtaining my CFP(R) or Certified Financial Planner designation and obtaining several licenses that will allow me to sell securities and other financial instruments. I then would like to get my MSFS or Master of Science in Financial Services degree while helping clients secure their financial futures.
Internships/Class projects
While pursuing my bachelor's degree, I completed two internships, both of which I obtained through class projects. I was a Human Resource Assistant summer intern for Chipotle Mexican Grill in Columbus, Ohio. I recruited and interviewed crew and management candidates throughout Ohio and Indiana and helped open two restaurants. I also completed a summer internship with Reynolds and Reynolds as a HR and Payroll Intern. Because of my internship experience and receiving an MBA assistantship, I decided to get my MBA right after my undergraduate degree. While pursuing my MBA I co-oped at Wright Patterson Air force Base as a Civilian Human Resource Specialist Trainee. I received a job offer at Wright Patterson Air Force Base as a Human Resource Specialist before I completed my MBA.