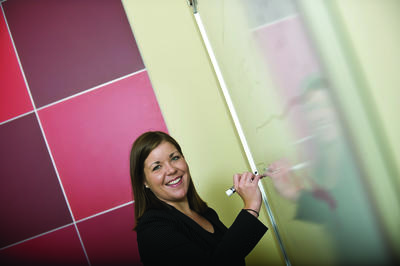 "My most valuable experience at the Raj Soin College of Business was qualifying for the IMA's National Case Competition in Denver, Colorado! I am on a team with four other accountancy students at WSU that was selected as one of the top four teams in the nation. Wright State has always had a long-standing reputation for excellence in accounting, and I love that I am now part of the tradition." Why Wright State? Scholarships! Initially I was interested in Wright State because it was the most affordable option with the most value to offer. After I visited campus and toured the College of Business, I knew this was the place for me. Everyone I met was so friendly and personable! It was clear that at Wright State you are more than just a number or nameless face. Professors, faculty, and the administration genuinely care about their students. Other universities I toured just did not give me the same impression. Once I became a student here, I was so thankful that I chose Wright State. I mean at what university can you carry on a casual conversation with the Dean of the entire college of business or the Chair of your department? At Wright State you can!
Tips for Success
Get involved! Joining clubs and organizations is a great way to network with business professionals. Plus, it gives you the chance to meet new friends during the process.
Take advantage of study abroad opportunities. Wright State has unbelievable exchange programs and internships in countries all over the world. I spent four weeks during the summer traveling throughout Japan with an Ambassador Program hosted by WSU. International travel gave me a whole new perspective on the business world. It also helped me develop communication skills which are an essential career tool.
Make sure you talk to your professors! Instructors at Wright State truly care about their students. They are down–to-earth and easy to approach which makes it easy to receive individual help and guidance whenever you need it.
Leadership
At Wright State, I found that it is really easy to get involved! There are awesome clubs and organizations, especially within the College of Business. I am involved with: the Accounting Leadership Program, Accounting Club, Finance Club, Dean's Student Advisory Board, and Beta Alpha Psi which is an academic fraternity for Accounting, Finance and MIS majors. Some of the leadership roles I have taken on are: Accounting Club President, Acting Corresponding Secretary of Beta Alpha Psi. Next year I will be Vice President of Beta Alpha Psi and the Student Ambassador for the Ohio Society of CPA's.
Internships/Class projects
I worked in WSU's Internal Audit department as a student auditor. It was great because I gained relevant work experience in my field of study while still being able to stay heavily involved with campus activities. Thanks to the skills I learned at Internal Audit, I was offered an internship at Deloitte. This summer I will be an audit intern with Deloitte's Cincinnati office.
Career Plans
I plan on staying at Wright State for another year as a graduate student in the Master's of Accountancy Program. After completing the MAcc., I will be eligible to sit for the CPA exam.
I am also considering applying to law school. Majoring in business as an undergraduate is an excellent choice because it opens the door to so many future opportunities.