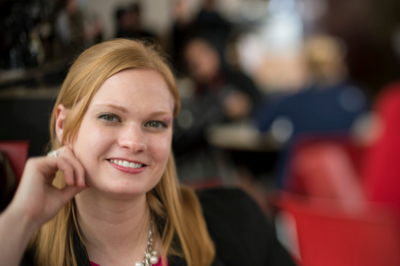 My name is Kristen Hemmelgarn and I am from Maria Stein, Ohio.  Maria Stein is a very small town with family-oriented values which is similar to what I found at Wright State. I was attracted to Wright State's small but growing campus, close proximity to my hometown, and affordable price.
What I love the most about Wright State is that I can walk across campus and get caught up in talking to my fellow classmates. I also enjoy the small classroom sizes where the teacher knows my name. The professors truly care about your success at Wright State. I enjoy the fact that I can talk with the faculty and staff and reach out to them for life advice. 
I have thoroughly enjoyed my time at Raj Soin College of Business. Through my time at business school, I have been active in the Human Resource and Management Club and the Dean's Student Advisory Board. Through these experiences, I have gotten to know Dean Li and network with business professional in the Dayton area.
Lance at the Office of Career Management assisted me in landing a career at my dream company. Lance was able to counsel me through the hiring process from how to go about contacting the company to determining my best options when I had multiple offers on the table. He was able to provide me with solid advice and helped talk me through the job search process. I would recommend Lance and his workshops as they are extremely helpful and relate-able to the real world.