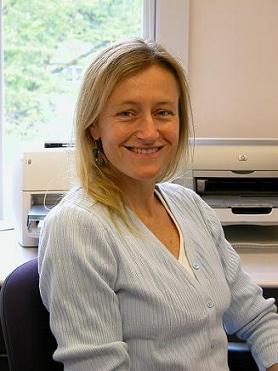 Economist Yana van der Meulen Rodgers, a professor of women's and gender studies at Rutgers University, spoke at Wright State University in an appearance sponsored by the Department of Economics in the Raj Soin College of Business.
On Thursday, November 16, van der Meulen Rodgers, made a  public presentation titled "The Relationship between LGBT Inclusion and Economic Development: Micro and Macro-Level Evidence." The presentation was co-sponsored by the Women, Gender and Sexuality Studies Program.
Van der Meulen Rodgers has a Ph.D. in economics from Harvard University. She served as president of the International Association for Feminist Economics in 2013-14. She has worked regularly as a consultant for the World Bank, the United Nations and the Asian Development Bank.
Van der Meulen's presentation on the link between LGBT inclusion and economic development is an example of how quantitative evidence is used to make a case for economic policy formulation. She states that a human rights case and a moral case can be made for LGBT rights, but sometimes policymakers need quantitative evidence that more inclusion matters. The talk, which is based on a United States Agency for International Development report co-authored by several feminist economists, will present those numbers.
Formed in 1967, the Wright State Department of Economics has a long tradition of offering a versatile quality undergraduate and graduate curriculum that serves students and employers in the region and offers research expertise in Asian economies; regional, local and global economies; gender, households and economy; public, institutional and social economics; and research methods.