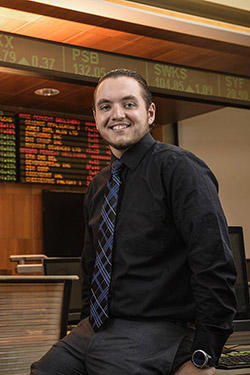 2017 Bachelor of Science, Computer Science, Minor in Entrepreneurship
I didn't start out at Wright State University. I initially started my postsecondary education at Ohio University where I learned a lot but found myself on the verge of failing out due to not being prepared for college. After a year and a half of schooling and 3 semesters of co-ops I decided to transfer to Wright State and I could not be happier with my decision. Upon arriving at Wright State, I found myself immediately engaged with academics here on campus, turning my grades around from a 2.0 GPA to a 3.5.
I have always loved entrepreneurship and the idea of pursuing your life's dreams while making it happen on your own. When I transferred to Wright State, I didn't know exactly what was in store for me. Since my arrival, I have found an overwhelming amount of support from both my peers as well as school faculty in my pursuit of entrepreneurship. I have even founded a company based on the idea of health as a competitive advantage.
Performing at a higher level than I ever had before, I often found myself tired and lethargic, forcing me to drink an absurd amount of coffee throughout the day to merely remain functional. I felt that this wasn't the way it had to be and I knew that with the passion for entrepreneurship that I had developed, I needed to perform more efficiently or this lifestyle would be unsustainable. With this in mind, I began to look at my daily routine. I seemed to be sleeping enough, and I was getting plenty of physical exercise so those weren't the problem. The problem seemed to be in my diet. When I couldn't find anything online about how to eat for increased performance, I started doing this research and decided to publish the information myself. This has become The Absolute Advantage, which still in its early stages. Living healthy with the intent focused merely on performance, will give you The Absolute Advantage in your field, and ultimately lead to better life!
The resources I have found at Wright State University has, and continues to help me reach my goals. This progress I have experienced is both tangible and intangible. The tangible results can be seen through my improved academic scores and the existence of The Absolute Advantage. Through the process of starting The Absolute Advantage, I found myself in need of a lot of help with things I have little experience in, such as website building and logo design. I found many friends here at Wright State who were able to help me overcome these challenges and publish the website. The intangible results, the motivation and support I have found through my peers as well as school faculty, whether through professors in class, or one on one meetings during office hours has helped me immensely to grow as a person. My time at Wright State and has been absolutely (no pun intended) critical to my success: personally, professionally, and academically.
Experiences:
12 months as Controls Engineering Co-Op at Invotec Engineering LLC. (May 2015 – August 2016)
Attended the 2017 Food Tank Summit in Boston, MA
Creator of TheAbsoluteAdvantage.com, a blog about health as a competitive advantage